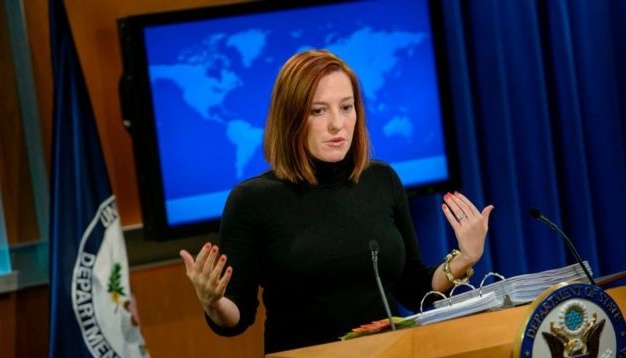 White House outraged by Putin's "Tough it out, my beautiful girl" Ukraine statement
White House Spokeswoman Jen Psaki said Russian President Vladimir Putin's statement, "Tough it out, beautiful" about Ukraine's alleged reluctance to comply with the Minsk agreements was outrageous.
She stated this at a briefing in Washington, answering a journalist's question, an Ukrinform correspondent reports.
"Well, first, I would say that any joke about rape would certainly be something that everyone in this government would be outraged by, whether it's happening from the mouth of a U.S. official or a foreign official," Psaki said.
She also added that the United States has never stopped expressing its concern about the lack of truthfulness of some of the statements made by President Putin and members of Russian leadership, as well as their bellicose rhetoric.
After a meeting with French President Emmanuel Macron, Putin reportedly demanded that Ukrainian President Volodymyr Zelensky fulfill the provisions of "Minsk Agreements," doing so in a rather frivolous manner, emphasizing Russia's interpretation of the deal. In this context, he recited a non-explicit part of an R-rated Russian limerick: "Whether you like it or not, tough it out, beautiful!"
Mykhailo Podoliak, an adviser to the President's Office chief, told Ukrinform that the "whether you like it or not" approach reflects relations between the Russian government and its citizens over the past 20 years, but distortions in the Minsk agreements and attempts to coerce Ukraine to anything will lead to severe sanctions.
Commenting on Putin's remark, President Zelensky said: "Putin is right that Ukraine is beautiful, but to say it's 'yours' is just too much. As for toughing it out... Ukraine is very patient, because it is about wisdom, because it is important not only for Ukraine, but for the whole of Europe," he said. According to Zelensky, the issue of escalation in the region depends on Ukraine's restrained position.
im