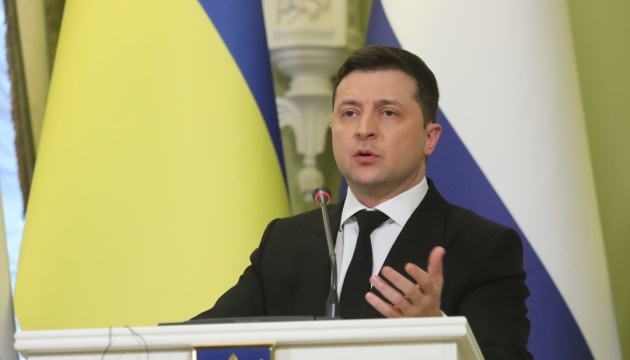 Zelensky comments on Lukashenko's threats to cut off fuel, power supplies to Ukraine
President Volodymyr Zelensky has addressed the recent statement by self-proclaimed President of Belarus Alexander Lukashenko on his intention to sever supply of energy resources to Ukraine, noting that such a policy would be a return to the "Stone Age" and that it's the people who would suffer from such steps in the first place.
The stated this during a joint press conference with French President Emmanuel Macron in Kyiv on February 8, an Ukrinform correspondent reports.
"Recently, someone in Belarus stated that, should there be escalation on the part of Russia, they would immediately cease energy supplies to Ukraine. The man has said these words, so how should we react to this? I asked for some stats on the Ukraine-Belarus trade. So we have a trade turnover of $6 billion, of which $1.5 billion is Ukraine's exports to Belarus, while $4.5 billion is Belarus exports to Ukraine. That is, if the two countries start restricting mutual trade, who will suffer? In this case, it's the people who will suffer, of course. If there's a desire to return to the Stone Age, we can proceed: Belarus will ban something, then Ukraine will ban something, too. But who will suffer? While politicians make decisions, but unfortunately it's the people who suffer," Zelensky said.
As reported, the self-proclaimed President of Belarus, Alexander Lukashenko, said in an interview with the propaganda YouTube channel Solovyov Live that Minsk would not supply Ukraine with fuel, lubricants and electricity if "Ukraine clashes with Russia."
On Tuesday, February 8, French President Macron was on a working visit to Ukraine. The day before, the French leader visited Moscow, where he held talks with Russian President Vladimir Putin.
im