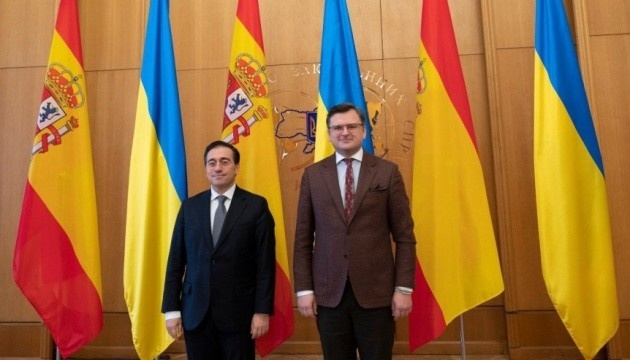 Spain will support sanctions against Russia in event of new attack on Ukraine - FM
Spain, along with the European Union, is ready to impose sanctions on Russia should it launch a new attack on Ukraine, but it believes that diplomatic efforts should be focused on resolving the Kremlin-created crisis.
Spain's Minister of Foreign Affairs, the European Union and Cooperation Jose Manuel Albares Bueno said this at a joint press conference with Ukrainian Foreign Minister Dmytro Kuleba in Kyiv on Wednesday, February 9, according to an Ukrinform correspondent.
He said Spain was watching with concern a build-up of Russian troops in the immediate vicinity of Ukraine's borders.
"But we are convinced that this situation should be resolved through dialogue. We are working with partners to support these efforts both within the EU and within NATO and the OSCE. The European partners have already agreed on a number of very important sanctions that will be implemented very quickly in the event of military aggression against Ukraine. Of course, this is not a scenario we would like to see, but we are ready for it, and we all are ready for it," he said.
He added that the sanctions will not be imposed preventively, they have been developed as a precaution.
"Our goal is to find solutions that will protect the security of all European states and the principles on which international law is based," the minister said.
Asked whether Madrid was ready to consider arms supplies to Kyiv, Albares said that the policy of Spain and the EU was that this crisis should be resolved through dialogue and efforts that are already being taken.
"If there is a need to go further, i.e. to work on the implementation of the already agreed measures, a package of sanctions, then work will also be done in this direction. But now is the time of diplomatic efforts, the time of negotiations, and we need to work on this, and not on some hypothetical scenarios that do not yet correspond to reality," he said.
op