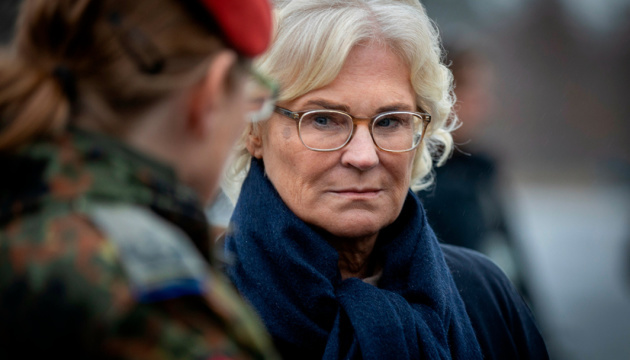 Lambrecht: Germany has no further plans to provide weapons to Ukraine
Germany has no further plans to provide weapons to Ukraine but is contributing to NATO's defense capabilities in Europe.
German Defense Minister Christine Lambrecht said this in an interview with Funke media holding, Ukrinform reports.
"We must prevent war in the heart of Europe and at the same time, we must not question Ukraine's sovereignty, territorial integrity, and freedom of choice of blocs. These are red lines. Russia has no veto right here," WAZ quoted Lambrecht as saying.
The politician said that Kyiv had a sovereign right to apply for NATO membership, noting that the issue was not on the Alliance's agenda at the moment.
The German defense minister reiterated the long-standing position of the federal government on the non-provision of weapons to "crisis areas". Asked about Berlin's delay in Estonia's transfer of nine 40-year-old howitzers from the old GDR reserves to Ukraine, Lambrecht said it needed the approval of the federal government, which was currently discussing the issue. "Howitzers are not defensive weapons. In the end, we must make very responsible decisions in this regard," she stressed.
She commented on Germany's decision to provide Ukraine with 5,000 helmets, which sparked a lot of outrage and jokes. She stated that this was a quick response to the request of the Ukrainian side. Lambrecht also mentioned other forms of assistance to Ukraine, including the fact that the German side trains Ukrainian soldiers, supplies hospitals with lung ventilators, medical equipment and vaccines, builds a new field hospital with Estonia, and treats seriously wounded Ukrainian soldiers in the military hospitals for years.
"Our work is de-escalation. We want to resolve this conflict peacefully," the official said.
The German defense minister noted that there were still many ways to work towards a de-escalation. At the same time, Lambrecht clearly stated that "Russia is the aggressor", that 100,000 Russian soldiers on the Ukrainian border are a clear threat, and that any further step by the Kremlin will have very serious consequences. Speaking about sanctions, the minister said that "all options are on the table".
As reported, the Ukrainian side sent to the ministries of defense and foreign affairs a list of defensive weapons that it would like to receive from Germany. Berlin not only refuses to help Ukraine with weapons but also prevents other NATO member states from doing so.
ol