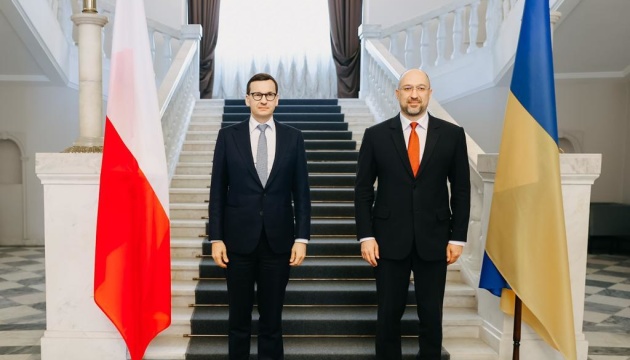 Morawiecki says being Russia's neighbor same as living by volcano
Our part of Europe is not experiencing earthquakes, volcanic eruptions, but having such a neighbor as Russia, we feel as if we're living near a volcano.
That's according to Chairman of the Council of Ministers of the Republic of Poland, Mateusz Morawiecki, who spoke at a joint briefing with Prime Minister of Ukraine Denys Shmyhal, an Ukrinform correspondent reports.
Morawiecki noted that Poland, like no other nation in Europe, understands the value of security, the value of alliances and cooperation in security issues, so his country wants to provide precisely such support to Ukraine.
"Our part of Europe is not experiencing earthquakes, volcanic eruptions, but so what? Living close to a neighbor like Russia, we have the impression that we're living near a volcano," he said.
The head of the Polish government also stated that Poland is ready to provide Ukraine with assistance in the field of gas and energy, as well as defense and humanitarian issues.
"Sovereign, democratic Ukraine is in the interests of all Europe as what could be the alternative? We can look at Belarus," said the Polish official.
As reported, Polish Prime Minister Mateusz Morawiecki arrived in Kyiv on February 1. This is his first visit to Ukraine in the capacity of Prime Minister, the post he has held since December 2017. Last autumn, the prime ministers of Ukraine and Poland met during the Economic Forum in Karpacz, Poland.
During today's meeting, Shmyhal and Morawiecki discussed further cooperation in the field of gas storage.
Earlier, the prime minister of Poland stated his country was ready to hand over military aid to Ukraine. In particular, this is about ammunition, MANPADS, and drones of various types.
Photo: Kancelaria Premiera
im