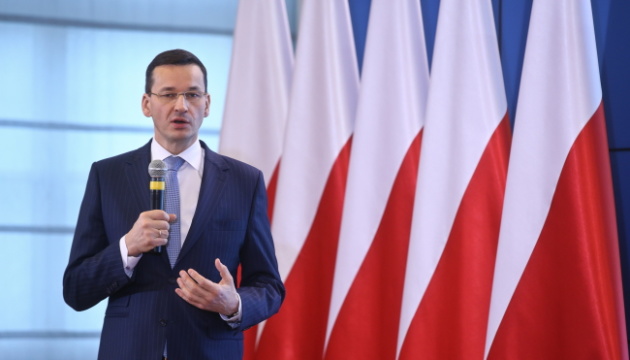 Morawiecki: Poland to supply to Ukraine ammunition, MANPADS, drones
Verbal support for Ukraine is no longer enough, so Poland is ready to hand over military aid to Ukraine. In particular, this is about ammunition, Hrim (Thunder) MANPADS, and various types of drones.
This was stated by the head of the Polish government, Mateusz Morawiecki, who spoke at a briefing for the media in Warsaw on Tuesday morning before flying off to Kyiv, an Ukrinform correspondent reports.
"Of course, we stand in solidarity with our Ukrainian neighbors in light of the threat they are now facing from Russia. However, solidarity and words are not enough today; now they need to be forged into action. For this and other reasons, which are related to the very threatening military situation, which, unfortunately, has developed there, we are also ready to hand over defensive weapons," Morawiecki said.
He noted that he had talked with President Andrzej Duda about the transfer of defensive arms to. In addition, during talks in Kyiv with Ukrainian President and Prime Minister, Volodymyr Zelensky and Denys Shmyhal, he intends to clarify what type of military assistance Ukrainians require to be able to defend themselves against possible Russian aggression.
Asked what specific military aid Poland plans to hand over to Ukraine, Morawiecki said: "ammunition, Hrim MANPADS, and various types of drones."
Morawiecki also said that Poland would also provide humanitarian aid to Ukraine, including vital necessities.
As reported earlier, this will be Morawiecki's first visit to Ukraine in the capacity of Prime Minister, the position he has held since December 2017. Last autumn, the prime ministers of Ukraine and Poland met during the Economic Forum in Karpacz, Poland.
im