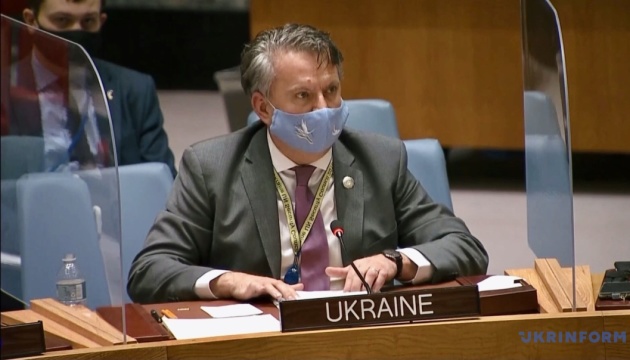 Ukraine at UNSC meeting: We cannot believe Russian declarations
Ukraine's Permanent Representative to the UN Sergiy Kyslytsya has said that Russia, which keeps its troops on Ukraine's border, should be judged by its actions, not words.
According to an Ukrinform correspondent, Kyslytsya said this at a meeting of the UN Security Council on Russian aggression in New York on Monday, January 31.
He said that about 112,000 Russian troops have been amassed around Ukraine's borders and in Crimea, and together with the maritime and aviation components their number reaches about 130,000 troops.
Kyslytsya also recalled that Russian troops were deployed in Belarus to take part in the Allied Resolve 2022 joint drills to be held on February 10-20. They include, in particular, Iskander missile divisions, S-400 Triumph and Pantsir anti-aircraft systems, and Sukhoi-35 generation 4++ fighters.
On January 26, the Russian fleet started another military drill in the Black Sea with involvement of frigates, patrol ships, missile ships, assault landing ships and minesweepers, he added.
According to Kyslytsya, the significant reinforcement of combat capabilities of the Russian occupation forces in Donbas is another worrying trend. Currently, these formations consist of up to 35,000 personnel, including around 3,000 servicemen of the Russian Armed Forces on command posts and in other critical combat positions.
On December 22, 2021, the Trilateral Contact Group reached another agreement to resume the ceasefire regime, but shootings, shelling, sniper fire on Ukrainian positions, and the systematic use of attack UAVs against Ukrainian troops have not stopped, Kyslytsya said.
Since then, Ukraine has lost 12 servicemen killed in action and 14 wounded. On January 25, armed formations of the Russian Federation once again attacked the positions of the Armed Forces of Ukraine in the area of Pyshchevyk, Donetsk region, using an attack UAV. VOG-17 fragmentation grenades dropped from that UAV resulted in severe injuries to two Ukrainian servicemen.
Russia is trying to deny that it is a party to the armed conflict that has been raging for eight years now in the Donbas region of Ukraine, attempting to impose a so-called "direct dialogue" with its puppet occupation administrations as well as refusing to engage in substantive discussions on the political settlement of the conflict, Kyslytsya said.
"The question is why all these Russian forces are there?" he said, reacting to remarks by Russian envoy to the UN Vasily Nebenzya, who in a manipulative manner tried to convince the Security Council that Russia has no aggressive intentions towards Ukraine.
Kyslytsya also noted a surge in Russia's disinformation campaign, including false accusations of Ukraine plotting a military attack. "This is not going to happen. This is direct evidence of Russia's unwillingness to de-escalate and prepare to justify its possible further aggression," he said.
Ukraine also strongly rejects any attempt to use the threat of force as an instrument of pressure to make Ukraine and its partners accept illegitimate demands, Kyslytsya said.
"There is no room for compromise on principal issues. The most principled position for Ukraine is that we have an inherent sovereign right to choose our own security arrangements, including treaties of alliance, which cannot be questioned by Russia," he added.
The Kremlin must remember that Ukraine is ready to defend itself, Kyslytsya said.
At the same time, he added that Ukraine supports the need to keep diplomatic channels with Russia open, if that prevents a shift to military tools. The Ukrainian president has reiterated most recently that he is ready to meet his Russian counterpart, he said. "If Russia has any questions to Ukraine, it is better to meet and talk, not to bring troops to the Ukrainian borders and intimidate Ukrainian people," Kyslytsya said.
op