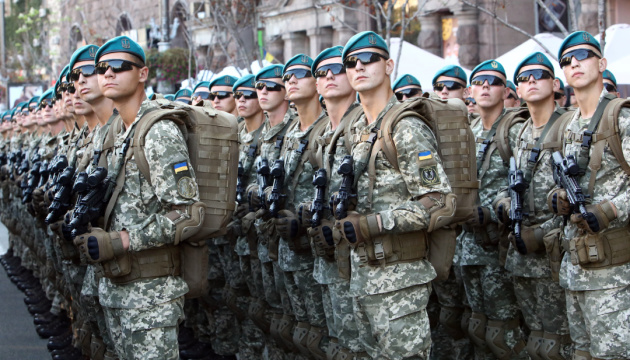 Number of Ukrainian military servicemen to increase by 100,000
President Volodymyr Zelensky has signed off a decree on Ukraine's transition toward a professional Army, increasing the number of servicemen by 100,000 over the next three years.
The document was signed as the head of state addressed the Verkhovna Rada, Ukraine's Parliament, at the opening of the seventh session, an Ukrinform correspondent reports.
"The Decree of the President of Ukraine on strengthening the nation's defense capabilities and the attractiveness of military service has been developed. The decree provides for an increase in the financial security for all military personnel to the level of no less than three minimum wages. It's about Ukraine's transition to the basics of a professional Army. A system of officers' career development has been established, while the number of military servicemen with the Armed Forces will be raised by 100,000," the president said in his address.
In addition, it is a question of creating another 20 brigades. "The decree is the start of Ukraine's transition to a professional Army. The decree comes out not because there will be a war soon, but to make sure that peace comes soon and prevails in Ukraine," the head of state stressed.
Zelensky added that it is about developing the concept of housing for servicemen, veterans, and their families.
He also added that military and technical assistance to Ukraine has been the largest since 2014, and continues to arrive. The main "philosophy of Ukraine remains the same and we continue to adhere to it. It is simple and clear – we appreciate everyone's support. We rely only on ourselves. We are a strong nation, we have excellent diplomats, and it's only our military who are even better. We must protect those who protect us," Zelensky stressed.
im