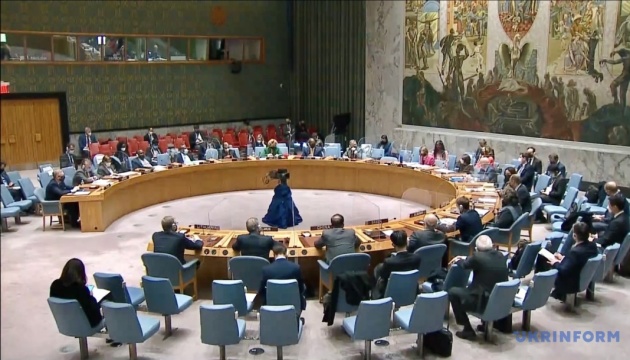 UNSC meeting on Russian threat "measure of preventive diplomacy" - Ukraine's Mission
A meeting of the UN Security Council to discuss Russia's threat to Ukraine, held Monday at UN headquarters in New York, was convened as part of the efforts to apply preventive diplomacy tools in accordance with the Organization's Charter.
That's according to a statement by the Permanent Mission of Ukraine to the UN, Ukrinform reports.
The meeting, held as an open briefing, "aimed to give all parties involved the opportunity to express their position, assess the amassing of Russian troops on the border with Ukraine as a threat to international peace and security at the global level, and emphasize the inevitability of a peaceful settlement," Ukrainian diplomats said.
No decisions were expected to be passed, the statement adds.
The meeting confirmed the principled position of the vast majority of Security Council members on the unacceptability of the unprecedented buildup of Russian offensive weaponry, forces, and means on the Ukrainian-Russian and Ukrainian-Belarusian borders, the statement said.
It is noted that the Permanent Representative of Ukraine to the UN, Serhiy Kyslytsia, speaking with journalists after the meeting, stressed the "inadmissibility of fanning the panic, including through manipulative and selfish interpretation of information and circulation of Russian narratives by certain outlets."
"Further hard work and a responsible position of all members of the Security Council, all UN members are needed to prevent the resumption of the hot phase of armed aggression," Kyslytsia stressed.
As Ukrinform reported earlier, on Monday the UN Security Council discussed the issue of Russia's threat to international peace and order. The meeting was convened by the United States, following consultations with Ukraine and partners from the Security Council.
im