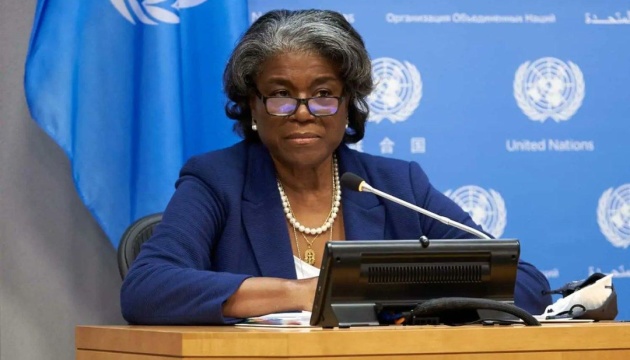 U.S. after UNSC meeting: Russia has not explained its actions around Ukraine
A UN Security Council meeting on Russia's military build-up around Ukraine was intended to get a clear explanation from Russia about its destabilizing actions, but it did not provide any specific answers.
U.S. Representative to the UN Linda Thomas-Greenfield said this after the UN Security Council meeting in New York on Monday, January 31, according to an Ukrinform correspondent.
"We called for this meeting to allow the Russians to give us an explanation of what their actions are. We didn't hear much. They didn't give us the answers that any of us would have hoped that they would provide," she said.
At the same time, she said, the meeting was clear that "all of the voices, even those who abstained on the votes, spoke clearly about the importance of the UN Charter and the importance of countries having the ability to feel comfortable within their own borders."
"So I think we accomplished that today; Russia heard clearly a united position from the vast majority of the Council, and I hope that that will lead to a diplomatic solution," Thomas-Greenfield said.
She also expressed hope that Russia would "continue along the route of diplomacy and find a solution – a way forward so that Ukraine can feel comfortable and secure in its own borders."
op