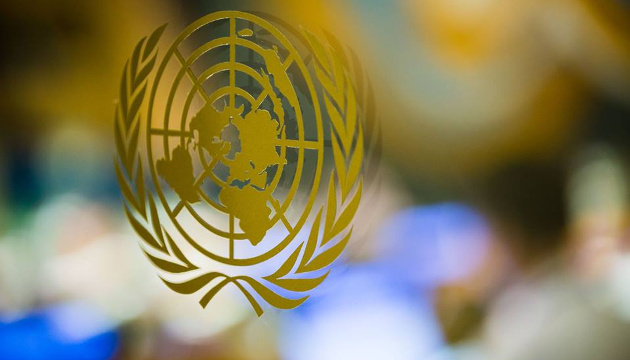 Ukraine at UN: Russia cynically poses as "victim" requiring "security guarantees"
Questioning international law and the rule-based order, Russia cynically attempts to present itself as a "victim" in need of "security guarantees."
That's according to a statement by Yuriy Vitrenko, Ukraine's deputy permanent representative to the UN, who spoke on Tuesday at a debate on the protection of civilians in urban settings amid war in cities, Ukrinform's own correspondent in New York reports.
"I must say it would be a very perverted way to defend yourself by plunging your neighbor into bloodshed," the diplomat noted, adding that "Ukraine has no intention to launch an assault on the occupied part of its sovereign territory, let alone the border areas of the Russian Federation."
According to the deputy permanent representative, Ukraine sees no alternative to political and diplomatic solutions to the conflict and will continue to seek any viable option to secure peace.
The diplomat also recalled that eight years ago, on January 24, 2015, the Russian occupation forces shelled with Grad and Uragan rockets the densely populated areas of the Ukrainian city of Mariupol. This heinous attack left 31 civilians, including children, killed and over 100 wounded. The then UN Under-Secretary-General for Political Affairs Feltman at the UN Security Council meeting labeled the attack as "knowingly targeted a civilian population" that constituted "a violation of international humanitarian law".
According to the Office of the UN High Commissioner for Human Rights, at least 3900 civilians were killed and 7,000-9,000 were wounded in Donbas. Almost 1.5 million were forced to flee their homes in the occupied areas of Ukraine as internally displaced persons.
As Ukrinform reported earlier, Russia put forward to the United States and NATO its demands concerning written "security guarantees," which include, among other things, the withdrawal of foreign troops from the countries of NATO's eastern flank, as well as banning Ukraine from joining the bloc.
im