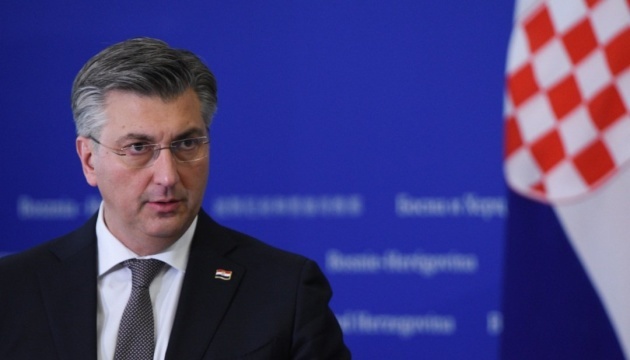 Croatia PM apologizes to Ukrainians for president's statement
Prime Minister of Croatia, Andrej Plenković, has apologized to Ukrainians for the recent scandalous statement made by President Zoran Milanović.
The head of government addressed the issue on Twitter.
"Given the fact that there are none of our soldiers in Ukraine, while the contingent in Poland has already returned, I don't know which military the president intends to withdraw. His statement on corruption in Ukraine is not our position, and on behalf of the government I apologize to Ukrainians for such insinuations," he said.
On Tuesday, Croatian President Zoran Milanović said Ukraine had no place in NATO because of corruption. He also noted that in the event of war with Russia, Zagreb would distance itself as much as possible from these events and "withdraw its soldiers from there." In addition, he branded the Maidan Revolution a "coup d'etat," thus sharing the cliché narrative circulated by Russian propaganda.
As Ukrinform reported, the Ukrainian Foreign Ministry said that Milanovic's allegations about the events of the Revolution of Dignity offend the memory of Ukrainians and foreign nationals who sacrificed their lives for the European future. Deep disappointment was also expressed over the statements of the Croatian President about Ukraine's NATO membership prospects and infeasibility of helping the country against the background of Russian aggression. The Croatian president has shown his contempt and ingratitude for the assistance Ukraine and Ukrainians have offered to Croatia as the country struggled for independence, as well as in fighting last year's devastating wildfires. At the same time, MFA Ukraine is convinced that this ingratitude is his personal trait and does not extend to the Croatian people, with whom Ukraine is united by friendship and mutual respect. Milanovic's statements do not correspond to Croatia's consistent official position in support of Ukraine's sovereignty and territorial integrity, damage bilateral relations, and undermine unity of the EU and NATO in the face of the current security threats in Europe, the Ukrainian Foreign Ministry believes.
Earlier, MFA Ukraine reported that German Admiral Kai-Achim Schönbach had resigned from the post of Navy Commander following his politically incorrect statements concerning Ukraine.
Photo: Twitter
im