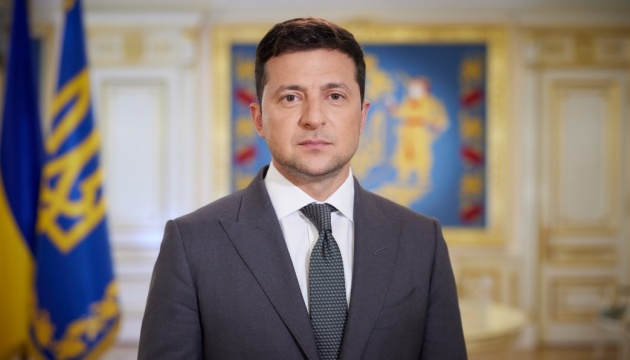 "Don't be afraid of Internet. Let Internet be afraid of us" - Zelensky addresses Ukrainians
President of Ukraine Volodymyr Zelensky has called on fellow citizens to apply critical, logical, and positive thinking when reading the news.
The statement came in a video address released on social media Tuesday, January 25, a Ukrinform correspondent reports.
"Don't be afraid of the Internet. Let the Internet be afraid of us. How can we make scare it? With healthy, critical, logical, and positive thinking. So whatever you read, see, or hear throughout the day, finish it keeping the main thing in mind: we're working 24/7 and will continue to do so to make sure you stay warm, full, and healthy," Zelensky said.
He noted that people nowadays read, hear, and watch dozens or even hundreds of news reports on a daily basis. Not all of them, the president added, pursue a really sincere goal, while some are mere rumors, and some – outright disinformation.
"Meanwhile, certain news reports delivered to those with no knowledge of the global context may lead to incorrect conclusions and anxiety. But what should we read? What deserves our response? Whom can we trust? Trust in Ukraine," the head of state stressed.
According to Zelensky, embassies of EU member states and many other nations in Ukraine so far keep their staff in place.
"And the fact that some countries extract PART of their diplomats does not imply inevitable escalation, being part of subtleties of a complex diplomatic game," said the president.
He said that the government works together with Ukraine partners, acting as a team.
Zelensky has assured that the situation in eastern Ukraine is fairly calm, and although some shelling is being recorded, as well as other truce breaches and the amassing of troops near our borders, no defenders were killed or wounded. Also, the situation of the heating season remains under control, as does the fight against coronavirus.
As Ukrinform reported earlier, Secretary of the National Security and Defense Council, Oleksiy Danilov, assured Ukrainians on January 24 that there was currently no active departure of foreign diplomats from Ukraine.
Photo: Ukrainian President's Office
im