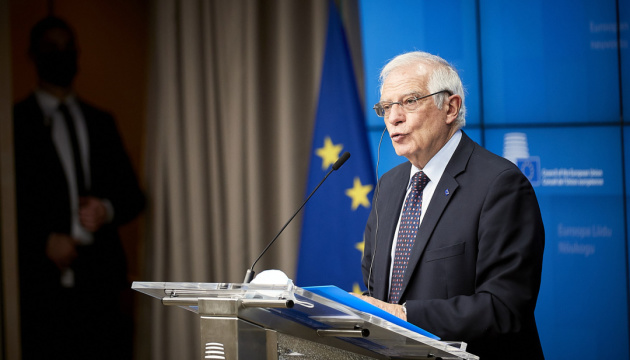 EU not planning to evacuate its diplomats from Ukraine - Borrell
The European Union does not intend to organize the evacuation of its diplomats or their families from Ukraine amid fears of Russian invasion.
EU High Representative for Foreign Affairs and Security Policy Josep Borrell told this to journalists ahead of a meeting of the Foreign Affairs Council in Brussels on Monday, January 24, according to an Ukrinform correspondent.
Borrell was asked whether the EU intends to start evacuating the families of its diplomats from Ukraine, following the example of the United States, and whether this does not mean that the war is imminent.
"Secretary [of State Antony] Blinken will explain to us the reasons for this announcement. We are not going to do the same thing, because we don't know any specific reasons. But Secretary Blinken will inform us, and I don't think we have to dramatize as far as negotiations are going on, and they are going on. I don't think we have to leave Ukraine. But maybe, Secretary Blinken has more information that he will share with us," he said.
Borrell also denied any EU plans to evacuate their diplomats from Ukraine.
"There's no decision about that," he said.
Earlier reports said that the U.S. Department of State on January 24 authorized the voluntary departure ("authorized departure") of U.S. government employees and ordered the departure of family members ("ordered departure") of U.S. government employees at the U.S. Embassy in Kyiv, effective immediately.
op