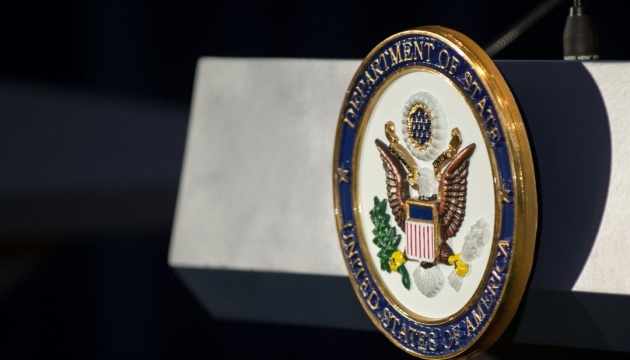 Russia could attack Ukraine at any point - U.S. State Department
Russia continues to raise tensions despite calls for de-escalation and has created in recent days an extremely dangerous level of threat of a new large-scale offensive against Ukraine.
This was stated during a telephone briefing on Tuesday by a high-ranking U.S. State Department official on Tuesday, Ukrinform's own correspondent reports.
"President Putin has created a crisis by concentrating an army of 100,000 troops along the border with Ukraine, which also includes the transfer of Russian troops to Belarus over the weekend," the State Department spokeswoman said.
This was neither a military exercise nor a usual movement of troops, the official noted.
"It is a show of strength designed to cause or give false pretext for a crisis as Russia plans for a possible invasion," she stressed.
The senior State Department spokeswoman stressed that the United States would continue its diplomatic efforts with Ukraine and other European allies and partners. Both personal meetings, phone calls and video conferences are in plans.
In addition, new diplomatic rounds will be held with the Russians in order to de-escalate the situation.
As Ukrinform reported earlier, on Tuesday the U.S. Department of State said Antony Blinken would be traveling to Kyiv and Berlin on January 18-20 to discuss the latest escalation from the Russian side. In addition, on January 21, Antony Blinken will meet with Russian Foreign Minister in Geneva.
im