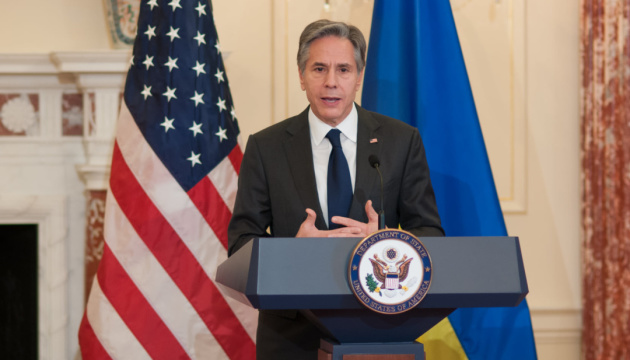 Blinken to meet Zelensky, Kuleba in Kyiv Jan 19
U.S. Secretary of State Antony Blinken will travel to Kyiv and Berlin from January 18-20, 2022, as part of the diplomatic efforts to de-escalate the tension caused by Russia's military build-up and continued aggression against Ukraine.
That's according to the State Department press service, Ukrinform reports.
"Secretary Blinken will begin his trip in Kyiv, Ukraine, where he will meet with President Volodymyr Zelenskyy and Foreign Minister Dmytro Kuleba on January 19 to reinforce the United States' commitment to Ukraine's sovereignty and territorial integrity," the Department of State's Spokesperson Ned Price said in a statement.
The trip follows extensive diplomacy with America's European Allies and partners about a "united approach to address the threat Russia poses to Ukraine and our joint efforts to encourage it to choose diplomacy and de-escalation in the interests of security and stability."
Antony Blinken will also meet with the employees and families of the U.S. Embassy to communicate the State Department's efforts "to plan for contingencies, should Russia choose to escalate further."
On January 20, Secretary Blinken will travel to Berlin, Germany to discuss recent diplomatic engagements with Russia and joint efforts to deter further Russian aggression against Ukraine, including Allies' and partners' readiness to impose "massive consequences and severe economic costs" on Russia.
The Secretary of State will meet with Foreign Minister Annalena Baerbock, followed by a meeting with the Transatlantic Quad.
As Ukrinform reported earlier, German Foreign Minister Annalena Baerbock was in Kyiv on Monday, January 17, before flying to Moscow the next day. While in Kyiv, she met with her Ukrainian counterpart Dmytro Kuleba and the country's president Volodymyr Zelensky.