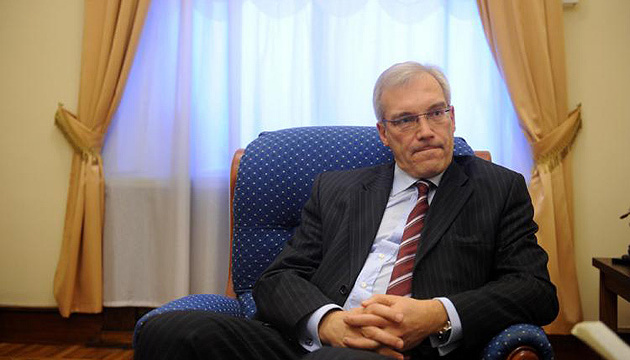 Moscow says no "common agenda" with NATO
After the meeting of the NATO-Russia Council in Brussels, Deputy Foreign Minister Alexander Grushko said the parties had no "common positive agenda."
Grushko made the statement during a briefing, an Ukrinform correspondent reports.
"All practical cooperation between us and the Alliance in areas of common interest has been suspended. Today we have no common positive agenda, not at all," Grushko said.
He again accused the United States and its allies of trying to gain an advantage in all operational domains (land, sea, air, space, and cyberspace) and in all possible theaters of war.
At the same time, according to the Russian deputy foreign minister, the Russian side in the talks "directly, without trying to get around corners, using politically correct formulas, pointed out that further escalation could lead to the most unpredictable and severe consequences for European security."
Grushko believes that the meeting "was a frank conversation."
As Ukrinform reported earlier, NATO Secretary General Jens Stoltenberg said at a meeting of the NATO-Russia Council on January 12 that the Alliance was ready for a dialogue with Russia on key issues of arms control and confidence-building, but would not compromise on key principles, including that of allies defending each other and of nations being able to choose their own security arrangements.
At the same time, he said, the Allies are ready for new meetings with Russia to discuss issues and concrete proposals in more detail. These include arms control, confidence-building measures, transparency of military activity, and the establishment of a communication mechanism to prevent misunderstandings and military incidents.
im