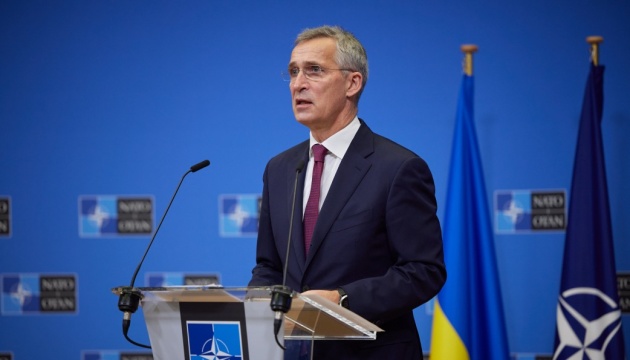 Stoltenberg reaffirms decisions of NATO Bucharest Summit on Ukraine, Georgia
NATO Secretary General Jens Stoltenberg reaffirmed the decisions of the Bucharest Summit on the future membership of Ukraine and Georgia in the Alliance, despite aggressive rhetoric and blackmail coming from Russia.
The head of the Alliance stated this on Friday in Brussels during a press conference following a virtual meeting of allied foreign ministers, where security developments around Ukraine were discussed, an Ukrinform correspondent reports.
"We stand by our decisions of the Bucharest Summit when it comes to Ukraine and Georgia, we support help on their way towards further Euro-Atlantic integration with reforms, practical and political support. And I strongly believe that it's important to send a message that reforms are important partly because it is a way to meet NATO standards, but this also makes the societies of Ukraine and Georgia stronger. So resilient and functioning societies are also less vulnerable to interference from Russia. So we will continue to provide support and continue to work with Ukraine and Georgia as they move forward," said Jens Stoltenberg.
He noted that the enlargement processes of NATO and the European Union over the past decades have been very important for the development of democracy, stability, peace and freedom in Europe. However, this is not to say that NATO is attracting new members – on the contrary, sovereign states are free to decide to join the Alliance, and then, after all democratic processes, Allies decide whether to expand the bloc.
The accession of Montenegro and Northern Macedonia to NATO, according to the Secretary General, was a confirmation of the Alliance's open door policy.
Answering journalists' questions, he stressed that this policy also applies to other partners, in particular, Sweden and Finland. These countries are also close partners of the Alliance, often invited to participate in meetings of the North Atlantic Council at the ministerial level, as well as to joint exercises and discussions.
"Such close cooperation is good for Finland and Sweden, but it is also good for NATO. Both countries are very close to NATO, have a common border with Norway and Denmark, and are also close to the Baltic States. Article 10 (Washington Treaty - ed.) Says so. that European countries that meet NATO standards can become members, which, of course, applies to Finland and Sweden. But we respect their will, and that must be the decision of Finland and Sweden, "said the NATO Secretary General.
He noted that the freedom of each sovereign nation to choose its own path and alliances also includes their right not to join the Alliance.
So it's up to Sweden and Finland to decide whether to join NATO, Jens Stoltenberg added.
As previously reported, one of the main points of the ultimatum currently being issued by Russia is NATO's public rejection of the Bucharest Summit's decisions on future membership of Ukraine and Georgia, as well as written guarantees of non-proliferation to the east and former Soviet Union. If the West refuses to accept such Russian "proposals", the Kremlin authorities are publicly threatening to take "military and military-technical" measures, and continue to concentrate troops around Ukraine's borders and its temporarily occupied territories.
im