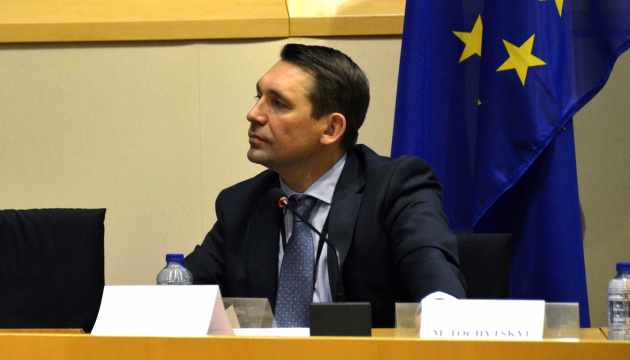 Tochytskyi: Ukraine, Poland will actively develop Lublin Triangle
Ukraine and Poland demonstrate a high level of strategic partnership and plan to actively develop the Lublin Triangle, Ukraine's Deputy Foreign Minister Mykola Tochytskyi has said.
He said this at a joint press conference with Polish Deputy Foreign Minister Marcin Przydacz in Warsaw on Thursday, according to an Ukrinform correspondent.
According to Tochytskyi, Ukraine and Poland are strategic partners and are now in a very intensive political dialogue -- from directors of departments at the foreign ministries to presidents.
He recalled that Presidents Volodymyr Zelensky and Andrzej Duda signed a declaration on Ukraine's European prospects in May this year.
The Ukrainian diplomat noted that Poland is Ukraine's largest trading partner in Europe.
"This shows that this is not only good neighborliness, but also a benefit for our peoples. In politics, it is very important to prove everything economically. People should see that it is not only about declarations, but also real cases," Tochytskyi said.
He thanked Poland for supporting Ukraine in the political sphere, infrastructure cooperation, cooperation in combating cyber threats and disinformation.
He also stressed that Kyiv has high hopes for Poland's presidency of the OSCE in 2022 in terms of security.
According to Tochytskyi, during the political consultations in Warsaw, both parties discussed a wide range of issues, including the two countries' complex history.
"We have agreed to work closely together to overcome these complex issues," Tochytskyi said.
He noted that he and Przydacz, as two national coordinators, will develop the Lublin Triangle of Ukraine, Poland and Lithuania.
"This institution is designed not only to deepen our cooperation, but also to respond to all current challenges - from cybersecurity to migration issues," Tochytskyi said.
Tochytskyi also thanked his Polish partners for their assistance to Ukraine, including in informing Western colleagues about the situation around Ukraine.
"We are counting on any assistance from Poland in the event of an escalation in the east of the country," Tochytskyi said, adding that the level of such a probability is "quite high."
op