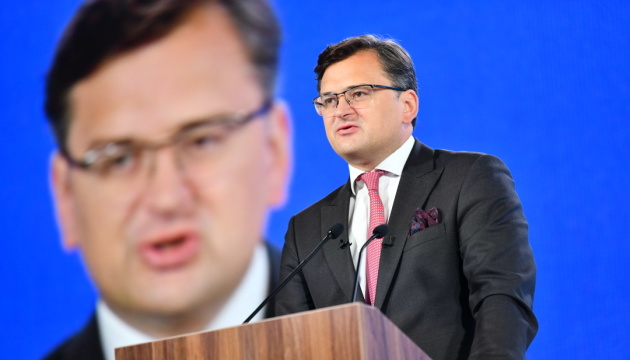 Russia's aggression against Ukraine: Kuleba names worst-case scenario
Russia may try to undermine the post-Cold War security architecture in Europe and forcibly cross borders, again, as it did in 2008 in Georgia and in 2014 in Crimea and eastern Ukraine.
This was stated by Minister for Foreign Affairs of Ukraine Dmytro Kuleba who spoke at an online briefing for foreign media on Monday, November 29, an Ukrinform correspondent reports.
Kuleba noted that Russians might try to do so today as they see opportunities for implementing such a plan.
Ukraine's key European partners, Germany and France, are focused on domestic affairs, Kuleba believes, explaining that the elections have recently taken place in Germany and are due to be held in France soon. Nord Stream 2, Russia's geopolitical gas pipeline project, is undergoing a process of certification. Vladimir Putin is convinced that the West is weak and indecisive, especially now, "the minister stressed.
The Ukrainian foreign minister called on western partners to prove that Putin was wrong, offering a package of deterrence measures that would work at three levels: political, economic and security.
At the first level, Ukraine calls for sending a clear signal that Russia would pay a high price for further action against Ukraine's territorial integrity or sovereignty, and that the Russians would face an immediate and insurmountable response. The second level involves the launch of a discussion within the transatlantic community on special economic restrictions targeting Russia. The third level is about the West strengthening cooperation with Ukraine in the security and defense sectors.
The stronger Ukraine is, the less likely it is that Russia will launch a large-scale military attack on Ukraine, Kuleba believes. A strong Ukraine as such is a measure to deter Russia, Kuleba concluded.
As Ukrinform reported earlier, The Washington Post wrote citing sources among the U.S. and EU officials that the movement of Russian troops to the border with Ukraine was being recorded. At the same time, "unusual movement" of equipment and military in Russia's western regions was noted, which is reminiscent of the developments of April 2021 which caused a stir in the international community.
Later, Politico published imagery taken by a commercial satellite, in confirmation of the previous publication by The Washington Post.
On November 21, Kyrylo Budanov, head of the Ukrainian Defense Ministry's Main Intelligence Directorate, told Military Times that Russia had amassed more than 92,000 troops near Ukraine's borders and was preparing for an offensive that could be launched in late January-early February 2022.
On November 25, Secretary of the National Security and Defense Council, Oleksiy Danilov, said there was no imminent threat of a Russian large-scale invasion, although the situation could change.
During a press marathon on November 26, President Volodymyr Zelensky of Ukraine stated that the possibility of a military escalation by Russia remains, while Ukraine is fully prepared for any developments.
im