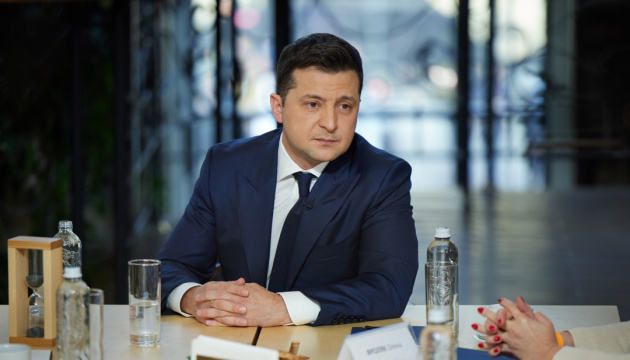 Ukraine prepared for escalation from Russia - Zelensky
The probability of military escalation from Russia exists every day, but Ukraine is fully prepared for this, President Volodymyr Zelensky has said.
He said this during a press marathon "Thirty Questions to the President of Ukraine" on Friday, November 26, according to an Ukrinform correspondent.
"We have been at war for eight years amid an ongoing powerful escalation from Russia or from Russian-supported militants. [...] I believe that such a probability can happen every day. But I think that today there is intimidation. I want to tell you that large-scale intimidation is coming from some media platforms that there will be a war tomorrow. What do we need to know? We fully control our borders and we are fully prepared for any escalation," Zelensky said.
He noted that every day he receives real intelligence not only from Ukrainian intelligence but also from partner countries.
He also recalled that Ukraine receives information, technical and financial assistance from international partners.
At the same time, he stressed that Ukraine should rely primarily on its own strength.
"First of all, we must rely on ourselves, on our army. We have a powerful army, and we equip it with new equipment. We're doing this not so fast, but, nevertheless, we are increasing salaries, because we must increase the motivation for our military," Zelensky said, adding that Ukraine today faces both external and internal challenges.
On November 21, Kyrylo Budanov, head of the Defense Ministry's Main Intelligence Directorate, told Military Times that Russia had amassed more than 92,000 troops near Ukraine's borders and was preparing for an attack that could begin in late January or early February 2022.
On November 25, Secretary of the National Security and Defense Council Oleksiy Danilov stated that there was no threat of a large-scale invasion of Ukraine by the Russian Armed Forces, although the situation may change.
op