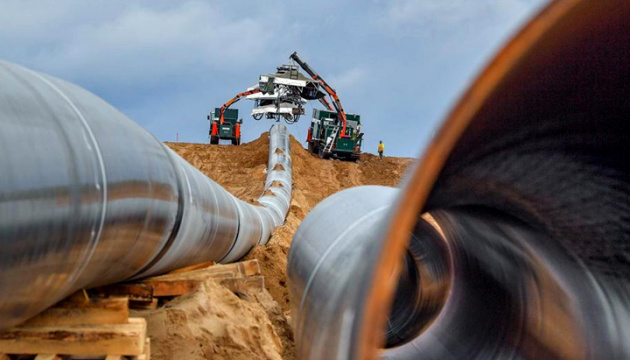 U.S. made "strategic mistake" on Nord Stream 2 - German MEP
U.S. President Joe Biden's administration made a mistake when they lifted sanctions off Russia's Nord Stream 2 gas pipeline, which ultimately allowed Russia to blackmail and put political pressure on the European Union due to Gazprom's monopoly position.
That's according to German MEP Viola von Cramon, who spoke at a discussion hosted by the Atlantic Council: "Moscow, Nord Stream 2, and Europe's energy crisis" on Monday, November 22, an Ukrinform correspondent reported.
"Transatlantic relations between Germany and the U.S. were not at the best constitution or shape when President Biden took over so the new administration was extremely keen to find ways how to improve those relations. (…) We have seen a lot of damage coming from Trump administration, but if there was one project we actually stayed in line on with the Trump administration was surely the sanctions on Nord Stream 2," the MEP said, adding that could have postponed the completion of the project and could have saved a lot of time.
The lawmaker recalled that in the end, President Biden decided to dismiss the sanctions.
"I think it was a strategic mistake," said von Cramon, noting it set a "green light" for Gazprom to complete the project and move forward."
She is convinced that the Nord Stream 2 project is a "huge threat" as Russia is now "free to use gas even more as a geopolitical weapon as they could have done in the past," as evidenced by the current situation in the European energy market.
Viola von Cramon also agreed that Nord Stream 1 and Nord Stream 2 have a very clear connection to Russian geopolitics: the first project was built after the Orange Revolution in Ukraine, and the second pipe – after Russia annexed the Ukrainian Crimea. This should be seen as a clear and powerful signal to the whole of the European Union about the threats of energy dependence on a single supplier.
"I see in the European Union, the European Commission, and especially in the European Parliament big resistance (to opposing Nord Stream 2 - ed.). And I really hope that we can manage, from the European side, together with the new government in Germany, to get some more legal objections to find ways how to postpone the entire process (of the launch of the pipeline - ed.)," said Viola von Cramon.
She stressed the need for the EU to strictly comply with the requirements of its Gas Directive, including the requirement on unbundling and admission to the market of third companies to operate the pipeline.
"This was clear from the very beginning, Gazprom hoped they can pass around, they can sue each and everyone to get this exemption from the Gas Directive. That didn't work. Now they put political pressure on different national governments, they put political pressure on the German regulator, they put political pressure on everyone else who fights. (…) I think that Germany bears a lot of responsibility for the situation as it is and for the increasing influence and power of Gazprom," the MEP stressed.
"We saw how they (Russia - ed.) play now with Ukraine, how they disconnect supplies of coal, gas, and other fossils to Ukraine. So it is a never-ending story. And, of course, we have to see how much persistence there is in different institutions. So far all this blackmailing and all this pressure have not worked. I do hope that we stay persistent and stand as we have done before," Viola von Cramon concluded.
As Ukrinform reported earlier, in late summer and early autumn, Europe faced a sharp jump in prices for gas and other energy sources. Despite the fact that Russia continued to fulfill its contractual obligations, they refused to respond with market instruments to the growing demand in the EU, and ordered no additional transit capacity to ship more gas to Europe via Ukraine. The Ukrainian government and a number of influential European politicians have linked this behavior to Russian pressure on the EU and the German gas regulator to speed up certification and launch of the Nord Stream 2 gas pipeline bypassing Ukraine.
im