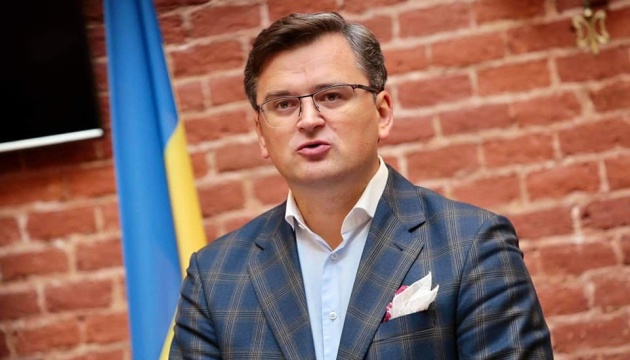 FM Kuleba: Ukraine strengthens border with Belarus, coordinates actions with Poland, Lithuania
Ukraine strengthens its border with Belarus and coordinates actions with Poland and Lithuania in view of the migrant crisis artificially created by the Lukashenko regime.
"Last Sunday, the leaders of Ukraine's security and defense agencies met in the city of Lutsk, not far from the border with Belarus, and invited ambassadors of Poland and Lithuania to join, because we need a collective response to the situation in Belarus. Today we have focused on the artificially created migrant crisis, but we cannot know what will happen tomorrow. Our three countries have to deal with the migrant crisis today, remembering that this is not the end of the story – Russia will do something new tomorrow. Our three countries must be ready for any scenarios," Minister of Foreign Affairs of Ukraine Dmytro Kuleba said in Brussels following a working breakfast with the foreign ministers of the EU Member States, an Ukrinform correspondent reports.
Ukraine is currently strengthening its border with Belarus, the minister noted.
"So far we have not seen an influx of migrants to our country, which proves once again that this migrant crisis is artificial, it is deliberately directed against Poland and Lithuania to provoke you, put pressure, and sow discord in your societies around the ways to resolve this crisis," Kuleba said.
According to him, neither Poland nor Ukraine is a "destination" for migrants as they see both countries as a transit route to get to the EU, in particular, to Germany.
As reported, Minister of Foreign Affairs of Ukraine Dmytro Kuleba makes a working visit to Brussels.
The migrant crisis on the border between Belarus and the EU has been ongoing since the end of June. Lithuania, Poland, and Latvia accuse Belarus of deliberate migrant pressure on their countries and the EU as a whole, calling this a "hybrid attack."
The situation worsened on November 8, when a large group of migrants tried to force through the border with Poland.
The EU will impose the fifth package of sanctions on Belarus over the situation on the border.
ol