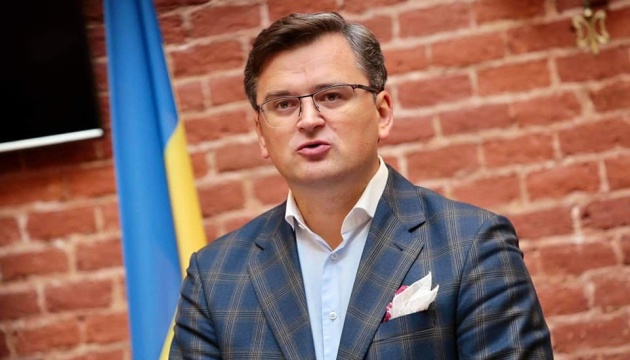 Kuleba: Kyiv, Washington have no differences in assessing situation on Ukraine-Russia border
Ukraine and the United States share the way they assess the developments around the amassing of Russian armed forces near the Ukrainian border, the only difference being the terminology applied in comments.
That's according to Ukrainian Foreign Minister Dmytro Kuleba, who spoke in Washington after arriving on a working visit to the United States, Ukrinform reports.
"We have no differences with the United States in assessing the security situation around Ukraine. There are differences in the terminology used in commenting on the issue, "said the head of the Ukrainian foreign ministry.
Kuleba has stressed that, when Russian troops are massively moved to the Ukrainian border, it is definitely an alarming signal, while not being evidence of a decisive stage of preparations for the offensive.
"When the troops deployed are put into offensive formations, then we are already approaching a certain line of no return, so this would be a completely different situation," the top diplomat explained.
The foreign minister noted that the Ukrainian intelligence agencies are not currently observing such offensive formations along the Ukrainian border.
"But this in no way negates the fact that Russia has created serious armed tensions along our border, and the vast majority of their infrastructure that appeared in the spring of this year has remained there and it could be activated at any moment, as well as the offensive formations could be formed," Kuleba said.
He stressed that "With the United States, we have a full understanding on the issue of security assessments." In addition, Kuleba noted that Ukraine "maintains a very balanced position, is not going to provoke anyone or do anything that could justify escalation by Russia."
At the same time, he recalled, tension points have been formed along the Ukrainian border, in Donbas, in Crimea, and in Belarus, so they can be involved at any moment.
"Our task is to do everything so that they are not activated. And if that happens, the task of our diplomats will be to mobilize as much as possible international support and the actions of our international partners that would be able to stop Russia," Kuleba stressed.
As Ukrinform reported earlier, on Wednesday Dmytro Kuleba and Anthony Blinken are to sign an updated Ukraine-U.S. Charter on Strategic Partnership. One of the main differences between the new document and the one adopted in 2008 will be the part on countering Russian aggression.
im