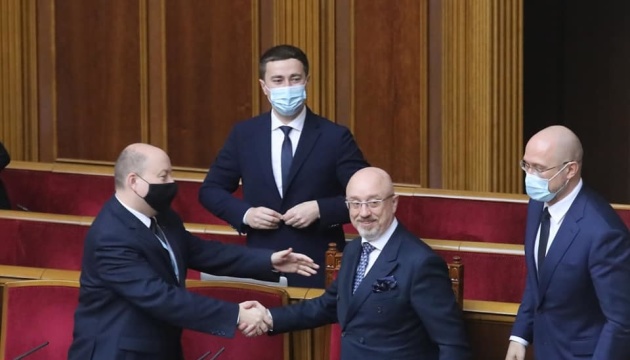 Rada appoints Reznikov as Ukraine's defense minister
The Verkhovna Rada has appointed Oleksiy Reznikov as Ukraine's defense minister.
Some 273 MPs voted for such a decision at a plenary meeting on Thursday, November 4, according to an Ukrinform correspondent.
The Verkhovna Rada dismissed Andriy Taran from the post of defense minister on November 3. On the same day, President Volodymyr Zelensky submitted a motion to parliament on Reznikov's appointment to the post.
Prior to that, from March 2020, Reznikov had served as Ukraine's deputy prime minister and minister for the reintegration of temporarily occupied territories of Ukraine. The parliament dismissed him from the post on November 3.
Between 2008-2014, Reznikov worked as a deputy of Kyiv City Council of the sixth convocation. Since June 2014, he had served as a member of Kyiv City Council of the seventh convocation. He was also elected deputy mayor and secretary of Kyiv City Council. From April 2016 to September 2018, he held the position of deputy chairman of Kyiv City State Administration.
In September 2019, he was tapped to represent Ukraine in the political subgroup of the Trilateral Contact Group. From May 5, 2020, he had served as first deputy chairman of the Ukrainian delegation to the TCG.
op