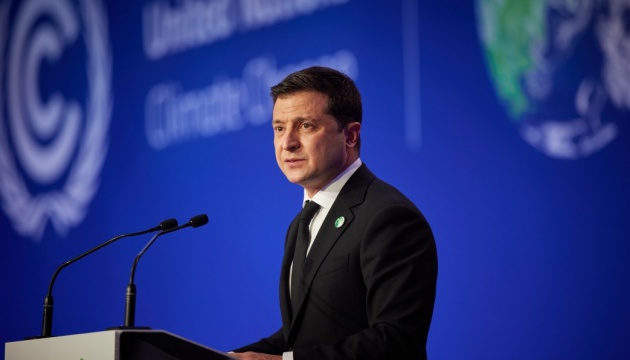 President calls occupied Crimea, part of Donbas 'eco-bombs' in center of Europe
Ukrainian President Volodymyr Zelensky has said he is convinced that the territories of Crimea and parts of eastern Ukraine temporarily occupied by Russia are currently "eco-bombs" in the center of Europe.
He said this at the COP 26 UN Climate Change Conference in Glasgow on Monday, November 1, according to an Ukrinform correspondent.
"In 1994, Ukraine received security guarantees [under the Budapest Memorandum] that, unfortunately, were not fulfilled, and the planet received two eco-bombs in the center of Europe: occupied Crimea and part of our Ukrainian Donbas," Zelensky said.
He said that the Crimean peninsula with its unique flora and fauna has become Russia's naval base.
He also stressed that in parts of Donetsk and Luhansk regions, there are flooding of mines, soil degradation, and lack of drinking water.
"This is a common threat to the whole world. Nowadays, any disaster, no matter where it happens, affects absolutely everyone," Zelensky said.
The UN climate summit began in Glasgow on October 31 and will last until November 12.
Photo credit: President's Office