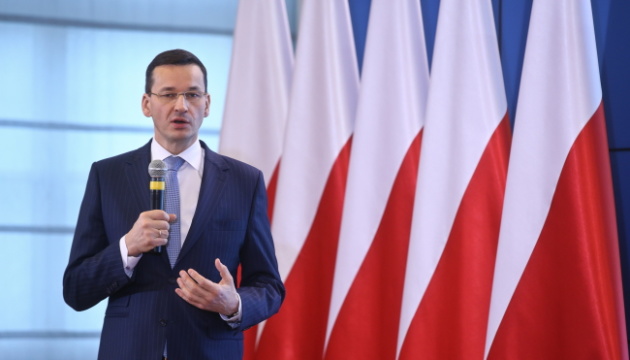 Energy crisis in Europe caused by Europe's "overdependence" on Gazprom – Poland's PM
The ongoing energy crisis, caused by the gas price hike across Europe, is the result of the EU's excessive dependence on Russia's energy monopoly Gazprom.
This was stated by Polish Prime Minister Mateusz Morawiecki following the EU Council summit in Brussels, an Ukrinform correspondent reports.
"The first source is the market's overdependence on Gazprom. Unfortunately, it is the fact that Russia and President Putin use this fuel to dictate prices," Morawiecki said.
According to the head of the Polish government, it was Russia's policy that caused the rise in gas prices, which in turn affected the electricity price hikes in Europe.
As a second source of the energy crisis, Morawiecki called speculation in the market for CO2 permits.
The Polish prime minister said that his country stressed the need to audit Gazprom's actions in Europe, which could lead to further monopolization of the gas market and, consequently, even greater price jumps.
Nord Stream 2 AG, the pipe construction operator, said that the first string of the pipeline was filled with technical gas and ready for launch.
The Nord Stream 2 gas pipeline was built from Russia to Germany, bypassing Ukraine. Its only shareholder is Gazprom.
Ukraine, Poland, the Baltic States, and the United States have been opposing the project. The governments of these countries, as well as an influential group of MEPs, believe Moscow is using the Nord Stream 2 pipe as a hybrid energy weapon against Ukraine and the entire European community.
im