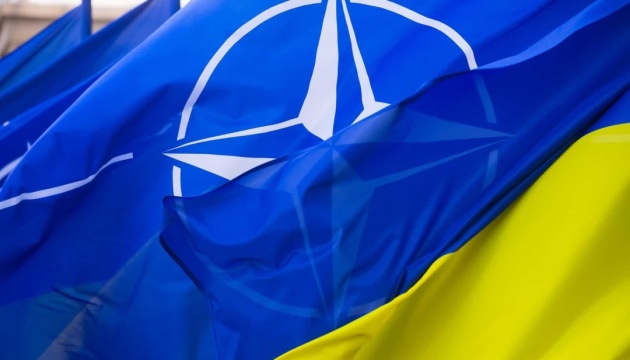 To join NATO, Ukraine needs both to comply with criteria and seal support of all Allies - ex-defense chief
Ukraine is on its way to NATO, but joining the Alliance requires both compliance with the required criteria and the solidarity of the 30 participating states.
The head of the board of the Center for Defense Strategies, ex-defense minister (2019-2020) Andriy Zahorodniuk made the relevant comment for Dom TV, Ukrinform reports.
According to the expert, during an official visit to Ukraine, U.S. Secretary of Defense Lloyd Austin made a number of statements that cast no doubt on the U.S. support for Ukraine on its path to NATO.
"During the visit, Austin repeated the same narrative we heard from Biden after the NATO Summit in Brussels in June 2021. So we see this as a positive thing because it was absolutely clear that the Allies do see Ukraine in NATO," said the expert.
Despite the fact that at the 2008 NATO Summit in Bucharest, Germany and France expressed doubts about Ukraine's accession prospects, a final communiqué was signed saying Ukraine would eventually become an Ally, the head of the Center for Defense Strategies said.
"We never had a situation where all NATO Allies would be against Ukraine's accession. In 2008, only Germany and France said they didn't see us there yet. However, a communiqué was signed by all Allies without exception, that is, there was full consensus. And that communiqué says Ukraine will become a member of NATO. This statement is positive as such," Zahorodniuk is convinced.
He stressed that joining NATO is a matter of consensus of all 30 Allies who must show solidarity when voting, so compliance with the NATO standards gives no absolute guarantee of Ukraine's accession.
"When Biden was asked in June this year, when Ukraine could join NATO, the answer was very simple: we expect it to become a member of NATO, but it must meet the criteria. Is this a guarantee that we will meet the criteria tomorrow and get there? Of course, not. Because joining NATO is a matter of consensus of all 30 NATO Allies who must vote in favor. In particular, such complex powers as France, Germany, and some others that still need to be persuaded," the expert said.
He noted that the United States cannot act as a guarantor of Ukraine's accession to NATO, as each country makes its own decision.
"No politician will ever take responsibility for the decisions of France or Germany. That is, neither Biden nor Austin will promise us membership if that membership doesn't depend solely on United States policy. So they are all very careful because they don't want to get into a situation where they will look very bad. Therefore, they will promise it only when they see that a consensus is reached in the Alliance. And we still need to work to this end," Zahorodniuk explained.
At the same time, the United States remains one of the main advocates of Ukraine's interests, he added.
"But the United States is indeed one of our main lobbyists in NATO. It is one of the countries that works with other countries and pushes them enough to support Ukraine," said the former defense minister.
In addition, Ukraine must meet the requirements set for an applicant country to get NATO membership.
"And, of course, the issue won't go anywhere. We are yet to address many issues within the country. That is, these are the reforms that we promise to carry out and haven't yet done so or the ones we're implementing and are yet to complete," Zahorodniuk concluded.
As reported, on October 19, U.S. Secretary of Defense Lloyd Austin paid an official visit to Ukraine. He met with President Volodymyr Zelensky and Defense Minister Andriy Taran. The parties discussed issues of bilateral relations, implementation of Ukraine's Euro-Atlantic aspirations, material and technical assistance to the Ukrainian Army, and countering Russian aggression.