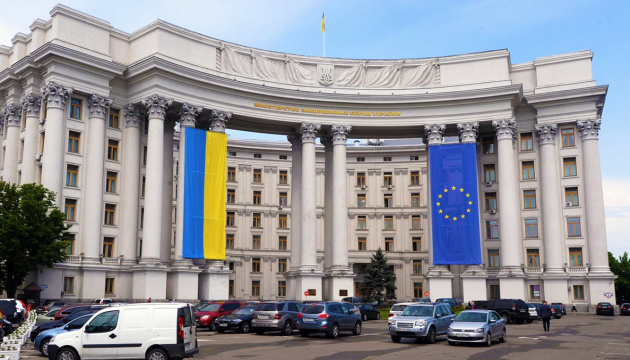 Russia's actions "unacceptable": MFA Ukraine reacts to blocking of OSCE monitors
The Ministry of Foreign Affairs of Ukraine calls out as unacceptable Russia's actions to obstruct the work of the OSCE Mission in eastern Ukraine and calls on Russia to cease provocations targeting international observers.
That's according to a comment received by Ukrinform from Foreign Ministry spokesman Oleh Nikolenko.
"The actions by the Russian Federation to obstruct the work of the OSCE Mission in the temporarily occupied territory of Ukraine are unacceptable. The blocking of and pressure on observers of the OSCE Special Monitoring Mission in Donetsk is an element of Russia's ongoing efforts to destroy the Minsk agreements and inflame the armed conflict," the spokesman said.
Nikolenko recalled that in September 2021, Russia shut down the OSCE observer mission at the Russian Gukovo and Donetsk checkpoints across the state border to prevent due monitoring and hide from the international community illegal supply of weapons, ammunition, and mercenaries from Russia to Ukraine.
The Foreign Ministry spokesman stressed that the decision of the OSCE Permanent Council provides for safe and reliable access of the OSCE Special Monitoring Mission throughout Ukraine to monitor the situation in the zone of ​​the Russian-Ukrainian armed conflict.
"We call on Russia to strictly fulfill its obligations: to cease provocations against international observers with the OSCE Mission, unblock their movement, ensure unimpeded access to the temporarily occupied territories in Donetsk and Luhansk regions, and guarantee security," Nikolenko said.
He also informed that Ukraine is cooperating with international partners to resume OSCE SMM's work.
As reported earlier, chief of the OSCE Special Monitoring Mission to Ukraine Yaşar Halit Çevik said on October 17 that the OSCE had suspended its observation mission in eastern Ukraine following a gathering outside its headquarters in temporarily occupied Donetsk.
Earlier, it was reported that about 200 pro-Russian demonstrators on Saturday picketed a hotel hosting OSCE observers, demanding the release of a Russian national who is part of the illegal armed group who had last week been detained by the Ukrainian military.
The Ukrainian delegation in the Trilateral Contact Group for Donbas Settlement said that on October 13, armed men sporting armbands with the Joint Control and Coordination Center insignia, under the pretext of demining, reconnoitered defense positions left by Ukrainian military near Zolote, and that the Ukrainian troops detained Andrey Kosyak, a Russian national who is part of the occupation forces.
im