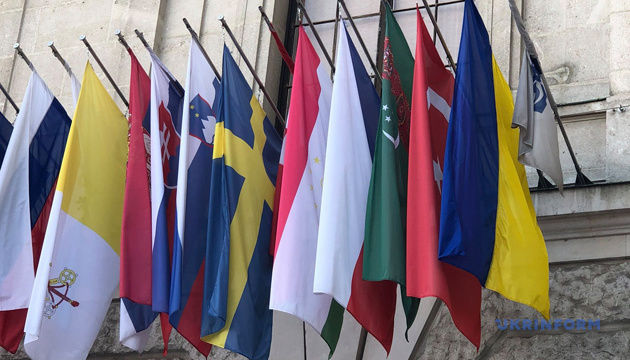 OSCE monitors practically taken hostage in occupied Horlivka – Ukraine delegate to TCG
In Horlivka, the town in the area beyond Ukrainian government control, members of the OSCE Special Monitoring Mission are being held in a hotel against their will.
That's according to Ukraine's delegate to the Trilateral Contact Group on Donbas Settlement, Serhiy Harmash, who wrote the relevant post on Facebook.
"In Horlivka, members of the OSCE Monitoring Mission (OSCE SMM) were actually taken hostage," Harmash wrote.
Referring to yesterday's SMM report, he wrote: "At 17:00, two men (in their thirties) in civilian clothing entered the hotel and informed SMM staff that they were allowed to move freely throughout the hotel and the parking lot behind the hotel, but that they were not allowed to leave the hotel premises until the member of the armed formations reportedly detained by the Ukrainian Armed Forces inside the disengagement area near Zolote on 13 October had been released."
Harmash also reminded that the OSCE consists of 57 member states, and all decisions are made by consensus.
"That is, Russia also gave its consent to deploying the OSCE SMM to Donbas and guaranteed immunity to its members. And the fact that the Mission members are, in fact, being held hostage by Russian-funded militants is a challenge the Kremlin junta puts forward to all the other 56 states participating in the OSCE," said the Ukrainian delegate to the TCG.
As Ukrinform reported earlier, the Russian puppet "administration" in Donetsk staged a gathering outside a hotel where OSCE SMM officials reside, obstructing the observers' movement in and out of the premises.
On October 15, the participants in the gathering "rotated in an orderly manner" and the rally continued on October 16, the SMM report said.
In a comment to Dom TV, Tetiana Ivanova, a Ukraine-appointed representative of certain districts in Donetsk regions in the Trilateral Contact Group, said OSCE SMM observers remained in the temporarily occupied Donetsk, and that their work was suspended due to security issues.
At the same time, the OSCE stated that the mission continues its work in the occupied part of Luhansk region.
On October 18, the SBU said counterintelligence officers had interrogated an "LPR" militant who was reconnoitering Ukraine forces' defense positions under the guise of demining efforts.
im