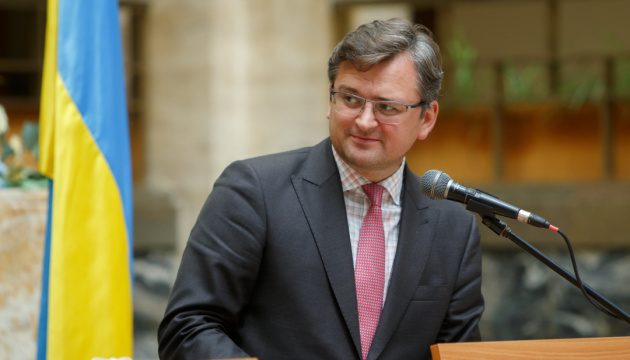 Kuleba highlights 10 genuinely new provisions of Ukraine–EU Summit's statement
Minister of Foreign Affairs of Ukraine Dmytro Kuleba highlights 10 genuinely new provisions of the statement made following the Ukraine–EU Summit on October 12.
During his online briefing, Kuleba said he was satisfied with the joint statement made following the Summit, which has important and strong wording, and outlined 10 genuinely new provisions.
In particular, for the first time in recent years, one of the main goals of the Association Agreement was confirmed – further integration of Ukraine into the EU internal market, which is the foundation of economic integration with the European Union, and the Associated Trio was recognized. The minister also noted that the format managed to overcome skepticism, for which Moldova and Georgia are grateful to Ukraine. He believes that this is especially important on the eve of the Eastern Partnership summit.
In addition, the foreign minister highlighted the EU's support for Ukrainian reforms, including anti-oligarchic legislation; specific provisions on strengthening security and defense cooperation, namely the possible support for Ukraine in the field of professional military education, and the interest in participating in certain PESCO projects.
Kuleba also drew attention to the readiness to start revising customs tariffs and to ambitiously update the Association Agreement; commendation of the progress on the path towards signing the Agreement on Conformity Assessment and Acceptance of Industrial Products; confirmation of Ukraine's integration into the ENTSO-E network and strong support for Ukraine's energy security in the fight against Russian energy blackmail.
"The EU is ready to cooperate with us to counter the use of gas as an energy weapon, and it is especially important that the EU confirmed in the closed part of the negotiations and publicly that the Third Energy Package will be applied to Nord Stream 2. This was one of Ukraine's demands, something we have consistently insisted on," the minister commented the issue of energy security.
Kuleba also stressed the clear condemnation of Russia's aggression against Ukraine and the full support for the Crimea Platform and the readiness of the EU to work on the implementation of the provisions of its declaration.
"It was difficult to imagine such detailed formulations by the EU a few years ago," he said, commenting on the European Union's condemnation of Russia's aggression.
On October 12, President of Ukraine Volodymyr Zelensky, President of the European Council Charles Michel, and President of the European Commission Ursula von der Leyen signed a joint statement following the Ukraine–EU Summit, in which the EU reaffirmed its commitment to strengthening Ukraine's political association and economic integration with the EU and its unwavering support for the sovereignty and territorial integrity of Ukraine.
ol