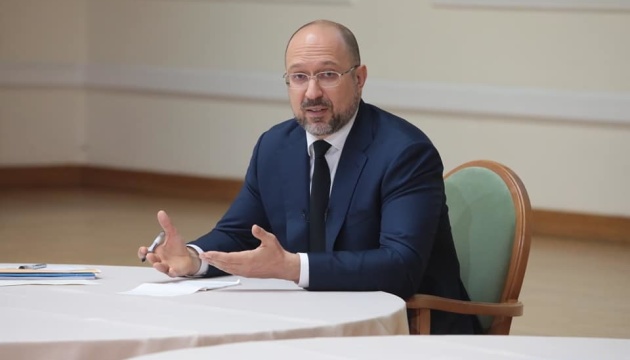 Memory of Holocaust an element of national memory of Ukrainian people - Shmyhal
Ukraine is determined to respond decisively to any manifestations of anti-Semitism, xenophobia, intolerance and to prevent the spread of hate crimes, Prime Minister Denys Shmyhal has said.
According to the government portal, he said this during his speech in Sweden at the International Forum on Holocaust Remembrance and Combating Anti-Semitism.
"The memory of the Holocaust tragedy is an element of the national memory of the Ukrainian people. By honoring it, it is possible to form a society characterized by feelings of tolerance, interethnic and interfaith understanding, where human rights are basic," Shmyhal said.
He also noted that Babyn Yar is one of the most difficult memories of the Holocaust.
"This tragedy is an eternal reminder of the need for joint, decisive efforts to prevent the revival of totalitarian ideologies, manifestations of intolerance on ethnic grounds," Shmyhal said.
He added that Ukraine became the first post-Soviet country to include the topic of the Holocaust in the 1990s as mandatory for students in all schools in the country in accordance with the recommendations of the Council of Europe.
He also recalled that in September this year, the Verkhovna Rada of Ukraine adopted the Law "On Preventing and Combating Anti-Semitism," which at the legislative level defines the term "anti-Semitism" and aims to prevent and combat anti-Semitism and its manifestations in Ukraine.
The International Forum on Holocaust Remembrance and Combating Anti-Semitism brought together representatives of 70 countries and organizations. It should result in the reaffirmation and revision of the norms of the 2000 Stockholm Declaration and the adoption of new norms, the most important of which is the fight against anti-Semitism and Holocaust denial.
The event is being held in Malmo on October 13-14 under the chairmanship of Swedish Prime Minister Stefan Lofven and with the participation of King Carl XVI Gustaf and Queen Silvia of Sweden, the leadership of the European Union, heads of state and government, representatives of international organizations.
Shmyhal is on a working visit to Sweden.
op