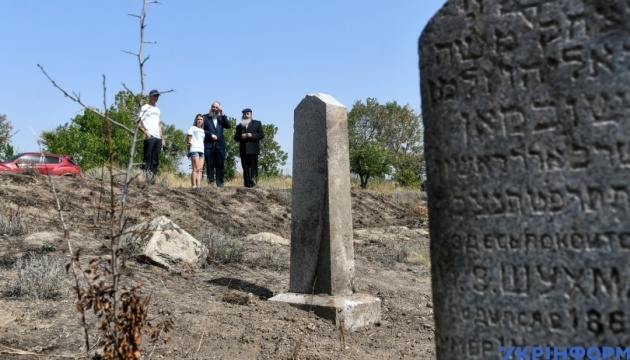 Ukraine to cooperate with United States to preserve Jewish heritage sites
Minister of Culture and Information Policy of Ukraine Oleksandr Tkachenko discussed the preservation of monuments of Jewish cultural and historical heritage with U.S. Special Envoy for Holocaust Issues Ellen Germain.
As the minister posted on Facebook, the parties discussed, in particular, the restoration of synagogues.
"There are about 800 synagogues [in Ukraine]. But not all of them are in good condition because there are no members of Jewish community left in some places. The most picturesque synagogue, as in Zhovkva town, could be reformatted into a museum. But to implement this, a third party is needed. The United States is interested in partnership in this area. We will consider the possibility of cooperation through financial assistance or involvement of experts," Tkachenko informed.
According to the U.S. envoy, Ukraine does not have the problem of anti-Semitism. In addition, the American side invited Ukraine to join the International Holocaust Remembrance Alliance (IHRA) as an observer. A discussion is currently underway.
According to Tkachenko, the erection of a monument at Babyn Yar was discussed separately during the meeting.
"Envoy Germain expressed United States' support for our actions. It is our shared responsibility to commemorate the Holocaust victims and to preserve the memory of this horrific page of the history," he said.
As reported, memorial events dedicated to the 80th anniversary of the Babyn Yar tragedy were held in the territory of the National Historical Memorial Preserve Babyn Yar on October 6. In particular, The Crystal Wall of Crying, an interactive installation by world-renowned performance artist Marina Abramovic, was unveiled. The Wall of Crying is one of the largest artworks in Europe built over the past decade.
During World War II, the German occupation forces used the Babyn Yar tract in the northwestern part of Kyiv as a place of mass executions of civilians, mainly Jews. On September 29, 1941, by order of the occupation administration, the entire Jewish population was obliged to appear in Babyn Yar. People were escorted in groups through the checkpoint, after which they were driven to the edge of the ravine and shot. On September 29-30, 33,771 people were killed. The massacres in the tract lasted until the occupiers left the city. According to official data, about 100,000 people were shot down there.
ol