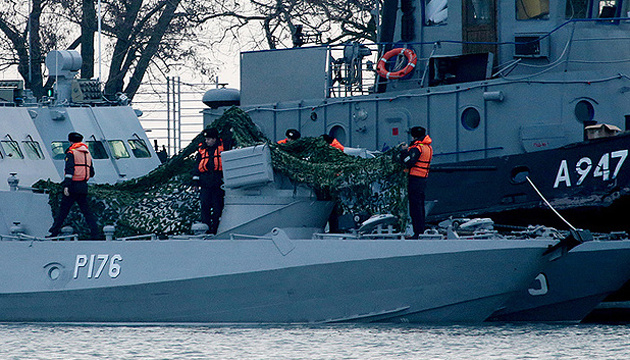 Kerch crisis: Russia claims PCA cannot consider Ukraine's lawsuit
Russia believes that the Permanent Court of Arbitration (PCA), established in accordance with the UN Convention on the Law of the Sea, has no jurisdiction, i.e. the right to hear, a lawsuit filed by Ukraine against Russia over the attack on and detention of Ukrainian warships and sailors in November 2018.
As an Ukrinform correspondent reports from The Hague, this was stated by Dmitry Lobach, Ambassador-at-large of the Ministry of Foreign Affairs of the Russian Federation, who represents the position of the Russian Federation at the court.
"The demands of the Ukrainian side are beyond the jurisdiction of this international court of arbitration," he said.
The hearing at the Peace Palace is held in a hybrid format due to the coronavirus pandemic. Not all members of the Russian delegation were present in the courtroom. Therefore, the hearing is held via videoconference.
Only the opening statement made by each Party's Agent is publicly available.
As reported, the Permanent Court of Arbitration in The Hague started hearing in the case Ukraine v. Russia over the detention of Ukrainian naval vessels and servicemen in November 2018.
Today, the Russian Federation delivers its first round of oral arguments. Tomorrow, October 12, Ukraine will deliver its first round of oral arguments. The second round of oral arguments will be delivered on October 14 and 15. If required, a further session of the hearing will be conducted on October 16, 2021.
On November 25, 2018, off the coast of the occupied Crimea, Russian border guards fired on and seized three Ukrainian warships and detained 24 sailors. The servicemen were accused of illegally crossing the Russian border (the punishment under this article is up to six years in prison). Ukraine considers the incident a violation of the immunity of warships.
On May 25, 2019, the International Tribunal for the Law of the Sea ordered Russia to immediately release all sailors and allow them to return to Ukraine, as well as to return the ships.
On September 7, a 35-to-35 prisoner swap took place between Ukraine and Russia, during which, in particular, 24 captured sailors were released.
On November 18, 2019, the Russian Federation handed over "Berdyansk" and "Nikopol" ships and "Yany Kapu" tugboat to Ukraine in the Black Sea waters. On November 20, they arrived in the port of Ochakiv.
ol