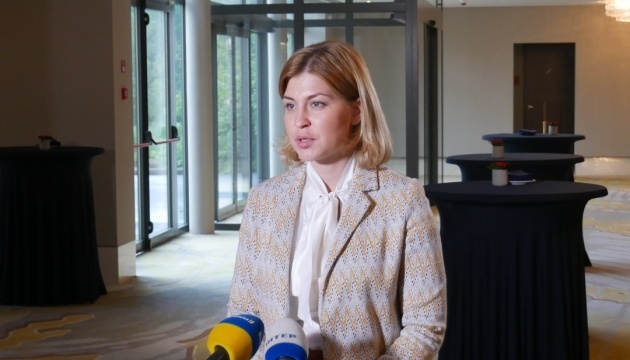 Russia blackmailing Europe with gas prices to gain monopoly for Nord Stream 2 – Stefanishyna
In an interview with EU Observer, Deputy Prime Minister for European and Euro-Atlantic Integration of Ukraine, Olga Stefanishyna, noted Russia's attempts to blackmail European partners with high gas prices to force them to drop EU energy legislation requirements to Nord Stream 2, thus allowing Gazprom to gain monopoly rights to operate the pipe.
EU Observer published the relevant article on Thursday, according to Ukrinform.
"We can see what's happening with the gas prices, which we treat as an incident of hybrid warfare, basically ... the signal Russia is sending to European capitals is: 'We're really manipulating prices, so you should launch Nord Stream 2 to stabilise the prices'. This is a clear narrative for us," Stefanishyna said.
The article's author recalls that gas prices for Europe have more than tripled since year-start amid low reserves and a spike in global demand. At the same time, creating a political atmosphere of crisis, which pushes prices further up, Russia is trying to force Europe to abandon provisions of EU energy legislation mandating an independent operator for Russia's Nord Stream 2 pipe.
"We cannot allow Russia an exception from European rules on this," Olga Stefanishyna told the outlet.
According to the EU Observer, Russia's attempts to monopolize control of the pipeline are detrimental to European energy security. If Russia achieves their goal, it could potentially lead to Russia suspending gas supplies to Poland and Ukraine as political leverage.
The article says it's not only Ukraine officials who raise alarm, assessing the reasons behind the latest gas price jump in the European gas market, but also some influential MEPs from leading political groups who complain Gazprom is refusing to guarantee additional volumes ahead of the winter season "despite available information" that it had "sufficient production capacity."
According to the publication, European leaders intend to discuss the gas price hike at the next EU summit this October. The topic will also be raised at the Ukraine-EU summit, set to be held in Kyiv next week. At the same time, as Olga Stefanishyna told EU Observer, the Ukrainian side expects that the final document of the Kyiv summit will reflect a provision on the extension of European energy legislation to Nord Stream 2.
As Ukrinform reported, gas prices in the EU energy markets beat own record highs several times over the last month, having already exceeded the psychological mark of $1,000 per 1,000 cubic meters. This is happening against the background of an ongoing EU review of the Nord Stream 2 certification, as well as Gazprom's refusal to pump additional volumes to EU storage facilities. As a result, Europe's gas stocks are only at about 73% of what's required for the winter season.
Background
Russia's gas monopoly Gazprom on September 10 announced the completion of the Nord Stream 2 gas pipeline, laid from Russia to Germany along the bottom of the Baltic Sea, thus bypassing Ukraine. Gazprom is a sole shareholder in the project.
Germany's Federal Network Agency has been reviewing since September 8 the Nord Stream 2 certification application, filed by the operator, Nord Stream 2 AG.
Ukraine, Poland, the Baltic countries, and the United States have been speaking up against the pipeline, seeing it as Rusia's geopolitical instrument. The German side assures it will do everything to ensure that Ukraine retains its transit role, expecting from Russia guarantees that the gas transit contract with Ukraine be extended after the current 5-year deal, signed in December 2019, expires.
im