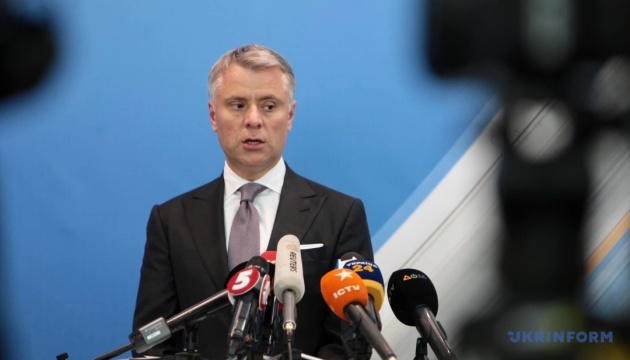 Kremlin's claim of limited capacity to inject gas into European USFs "continued blackmail" - Naftogaz CEO
The Kremlin's statements about the limited capacity to inject gas into European underground storage facilities are part of continued blackmail aimed to ensure Nord Stream 2's successful certification despite its failure to comply with EU regulations.
That's according to Yuriy Vitrenko, Chairman of the Board of Naftogaz of Ukraine, Ukrniform reports.
The Kremlin says it is allegedly ready to supply more gas to Europe, claiming that the issue is the limited capacity to inject gas into Europe's underground storage facilities. This is a continued effort to blackmail Europe over Nord Stream 2. They claim you won't have enough time to pump enough gas ahead of winter so let us launch this pipeline without full compliance with EU rules," Vitrenko wrote.
The head of Naftogaz notes that Ukraine has sufficient capacity available in its USFs at about 10 billion cubic meters. In addition, gas can be pumped into Ukrainian USFs after the heating season starts, provided that supplies from Russia increase.
"Therefore, Gazprom should allow European companies to receive gas at the Russian-Ukrainian border so that they can then pump more gas into our storage facilities," Vitrenko said.
He also stressed that Gazprom, contrary to European rules, is effectively blocking access of third parties to gas pipelines laid from Russia to the EU.
Background
Russia's gas monopoly Gazprom on September 10 announced the completion of the Nord Stream 2 gas pipeline, laid from Russia to Germany along the bottom of the Baltic Sea, thus bypassing Ukraine. Russia's Gazprom is a sole shareholder in the project.
Germany's Federal Network Agency has been reviewing since September 8 the Nord Stream 2 certification application, filed by the operator, Nord Stream 2 AG.
Ukraine, Poland, the Baltic countries, and the United States have opposed the pipeline. The German side assures it will do everything to ensure that Ukraine retains its transit role, expecting from Russia guarantees that the gas transit contract with Ukraine be extended after the current 5-year deal, signed in December 2019, expires.
im