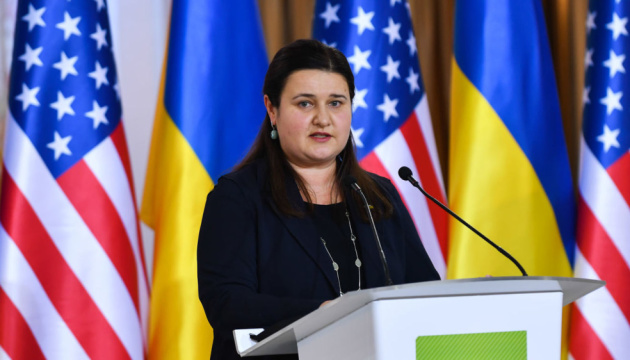 Markarova elaborates on preparation of Ukraine-U.S. Strategic Partnership Commission meeting
Preparations for the meeting of the Ukraine-U.S. Strategic Partnership Commission (SPC) in an updated format are in full swing as documents are already being drafted and intensive discussions are underway on issues on the agenda.
That's according to Ukraine's Ambassador to the United States, Oksana Markarova, who offered Ukrinform her exclusive comment.
"We are currently in active discussion with our American counterparts and the Ministry of Foreign Affairs of Ukraine, also working on the documents that will be considered at the meeting of the Strategic Partnership Commission," said the embassy chief.
She noted that all issues laid down in the joint statement of the two presidents following their meeting in early September are being prepared for discussion.
"The way the presidents' joint statement is structured, the Commission will actually cover all the areas designated in it. This applies to issues of defense, democracy, justice, and human rights, as well as energy security, climate, and economic cooperation," Markarova said.
According to the ambassador, the key focus will, of course, be put on security and repelling Russian aggression. She added that the main areas of cooperation in this field are defined in the documents, signed during the visit, on the defense partnership and, in particular, in the framework agreement with the Pentagon.
"We are already working very actively toward further developing the agreements reached," the ambassador stressed.
As for the dates for the SPC meeting, they are being coordinated and will be decided on soon.
"We are still working on the dates, but it will definitely be held before year-end," the diplomat said.
Also, she said the Commission is expected to develop a plan and to "approve the Strategic Partnership Charter, which hasn't been updated since 2008." Therefore, Markarova noted, "some really pro-active and productive work" is underway.
In addition, the ambassador said that the Ukrainian and American sides are working on the preparation of the Strategic Energy Dialogue. She confirmed that this format would include, among other things, discussions of Nord Stream 2 challenges but will be much broader."
The energy dialogue will also cover cooperation in nuclear energy, development of renewables, climate issues, and other points identified in the joint statement of the energy agencies, Markarova added. According to her, all these issues are also under discussion with the American side.
As Ukrinform reported earlier, President Volodymyr Zelensky of Ukraine and his U.S. counterpart Joe Biden during a meeting in Washington in early September agreed to intensify the work of the Strategic Partnership Commission.
According to the Ukrainian President's Office, the SPC will be "reoriented and provided with resources to tackle the challenges of the XXI century."
im