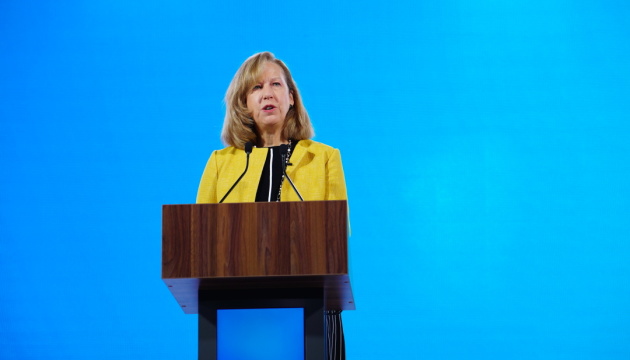 Ukraine, U.S. to strengthen defense cooperation - Kvien
Ukraine and the United States will strengthen cooperation in various spheres, including defense, according to U.S. Chargé d'Affaires Kristina Kvien.
She said this in her address to participants in the first youth meeting of the Kyiv Security Forum "West-East, North-South," founded by Arseniy Yatsenyuk's Open Ukraine Foundation, the foundation's press service told Ukrinform.
"President Zelensky and President Biden met recently at the White House. I was fortunate to join that meeting, and I am glad to report that the bonds between the United States and Ukraine are stronger than ever. Both President Biden and President Zelensky are committed to Ukraine's Western orientation and full Euro-Atlantic integration," Kvien said.
She said that the United States and Ukraine were going to work together using tools like the Strategic Partnership Commission and a new Strategic Defense Framework between the Ministries of Defense of Ukraine and the United States to strengthen the two countries' relationship even more.
"The Strategic Defense Framework will provide the structure around which we base our defense cooperation. We will work on issues like countering Russia's aggression, fighting corruption, promoting Black Sea security, defense industry reform and cybersecurity," Kvien said.
She recalled that the United States had allocated $400 million in security assistance to Ukraine this year alone and $2.5 billion committed since 2014.
"This assistance helps Ukraine meet its current and future challenges and protect its sovereignty and territorial integrity," Kvien said.
The U.S. House of Representatives earlier approved the National Defense Authorization Act for Fiscal Year 2022. The document envisages the provision of $300 million in security assistance to Ukraine.
op