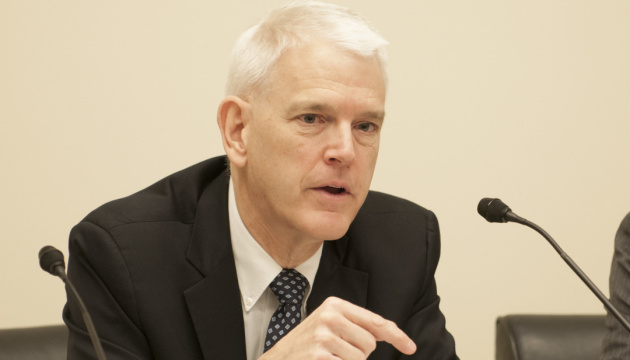 Pifer sees Russian aggression, reforms as main challenges for Ukraine
Ukraine has come a long way and made tremendous progress over the past three decades, but today the country faces two key challenges, according to Steven Pifer, former deputy assistant secretary of state in the Bureau of European and Eurasian Affairs and former U.S. ambassador to Ukraine.
He said this in his address to participants in the first youth meeting of the Kyiv Security Forum "West-East, North-South," the Open Ukraine Foundation told Ukrinform.
"The first is an external challenge, and that is how to do with the conflict that Russia has imposed upon Ukraine going back in 2014, when the Russian military illegally seized Crimea, and then Russian security and military forces provoked a conflict in Donbas," Pifer said.
Pifer noted that the war had already claimed the lives of some 14,000 people.
"The question here is how Ukraine and its friends in the West can change the calculation in the Kremlin so that Moscow comes to work for a real solution to the conflict, a solution that allows Ukraine to fully restore sovereignty over all Ukrainian territory," he said.
The second challenge, according to Pifer, is domestic.
"While Ukraine has made great progress, there is still more to do to realize that critical mass of reforms that would allow Ukraine to realize its full potential," Pifer said.
In particular, he noted the holding of fair and democratic elections.
"That's a record that is very rare in the post-Soviet space, and that's a credit to Ukraine, to Ukrainians and to Ukrainian democracy," Pifer said.
He stressed that the focus now needs to be for Ukrainians on how to open up the country's rich economic potential.
"Steps to deal with corruption, to promote more economic competition, to curb and reduce the outsized political and economic influence of the oligarchs, to reform the judicial sector - these kinds of steps, if pursued seriously, can create a situation in which incomes rise, living standards rise," the diplomat said.
op