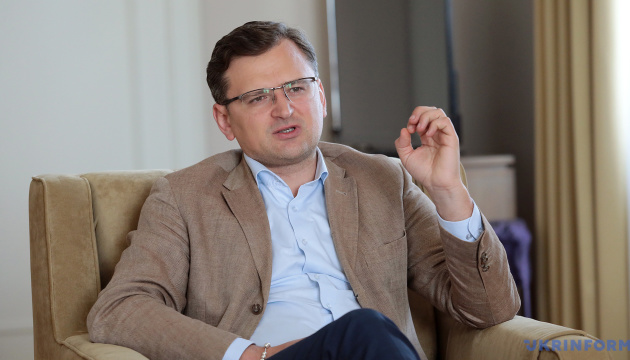 Kuleba explains why Ukraine's rhetoric at UN has become harsher
Ukrainian Foreign Minister Dmytro Kuleba has explained why Ukraine's rhetoric at the current session of the UN General Assembly has become harsher.
In his blog for Ukrinform, Kuleba wrote that simply warning the world about the new challenges that Ukraine has faced earlier than others is futile. In his opinion, it is necessary to be proactive and show others the way.
"Today's level of global challenges leaves no time for procrastination, leaves no right to softness, and leaves no opportunity to 'sit back.' We in Ukraine have faced many modern challenges earlier than others. Take, for example, the issue of misinformation. We had warned the world about this threat back in 2014, when we found ourselves in the grinder of Russian propaganda. But no one seemed to be willing to hear us out. And in a few years, it was they who faced what Kyiv had long been talking about. Ukraine is ready to share the experience we have gained in countering hybrid threats over more than seven years of repelling Russian aggression. But now we know for sure: simply appealing and warning is futile. Today we need to be pro-active and show others the way. That is why Ukraine's rhetoric has changed," Kuleba wrote.
Commenting on the Ukrainian delegation's participation in the UN General Assembly, Kuleba said that "tackling climate change is in some ways easier than taking a clear stand on forcible altering of borders."
"It is convenient to fight climate change because it doesn't fight back. However, to voice a clear position on Crimea, one needs to have the courage to challenge a very specific permanent member of the UN Security Council," Kuleba wrote, meaning Russia. He added that the UN still lacks such courage to do so. "But we are working to encourage it to this end. On our side, we have almost fifty states that are not afraid to call the Crimea issues by their names," the minister said.
According to him, the UN, just like international politics in general, needs change. The president's speech testified that Ukraine is not just ready to become a driver behind these changes – it already is one, Kuleba said.
The occupation of Crimea is a global problem, not exclusively a Ukrainian one. It threatens principles fundamental for the UN and the whole world, such as international peace and security, inviolability of borders, freedom of navigation, protection of human rights and those of indigenous peoples, and environmental security. As the Ukrainian president said, "instead of fauna and flora, there is a fleet and soldiers" in Crimea today, Kuleba said.
"The UN must respond more actively to Russia's criminal activity," Kuleba wrote, recalling that about 15,000 people have already died as a result of Russian aggression.
On September 22, Zelensky in his speech at the 76th session of the UN General Assembly called for a "revival" of the UN and its charter, noting that the organization had shown weakness in its fight against the coronavirus pandemic, ignored participation in the Crimea Platform summit, and failed to respond properly to Russia's issuing passports to residents of the temporarily occupied territories of Ukraine and the involvement of Ukrainian citizens in the State Duma election.
op