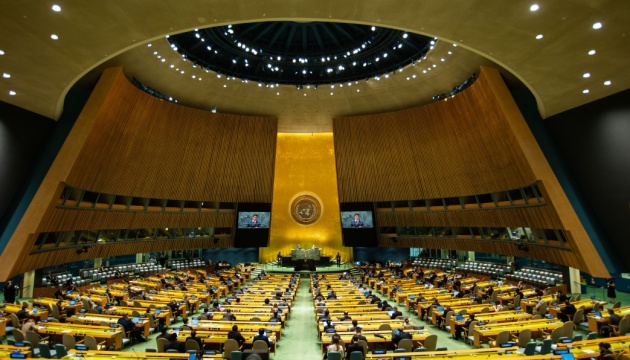 "Good with fists": The UN the world needs
Key points about the Ukrainian president's visit to the 76th session of the UN General Assembly in New York
"The world must wake up," UN Secretary-General Antonio Guterres said from the rostrum of the UN General Assembly.
"Ukraine did it a long time ago, since then it hasn't fallen asleep," President Volodymyr Zelensky of Ukraine said the next day.
We support the Secretary General's call, especially considering that the UN itself "slept through" the inaugural summit of the Crimea Platform in Kyiv, where 47 states and international organizations defended the fundamental principles of the UN Charter and call on Russia to give the occupied Crimea back to Ukraine.
To "wake up," one needs to open their eyes, take a sober look at the current state of affairs, and start solving problems that have been back-shelved for years. Ukraine woke up a long time ago. Perhaps some are irked about what we say? But someone has to speak about the problems honestly`. Who can do it better than one of the founding members of the United Nations that's been making a significant contribution to the UN peacekeeping operations? Only by realizing our flaws are we able to fix them and become better. President Zelensky's speech at the 76th session of the UN General Assembly in New York testified that Ukraine speaks directly about things that many countries around the world think about.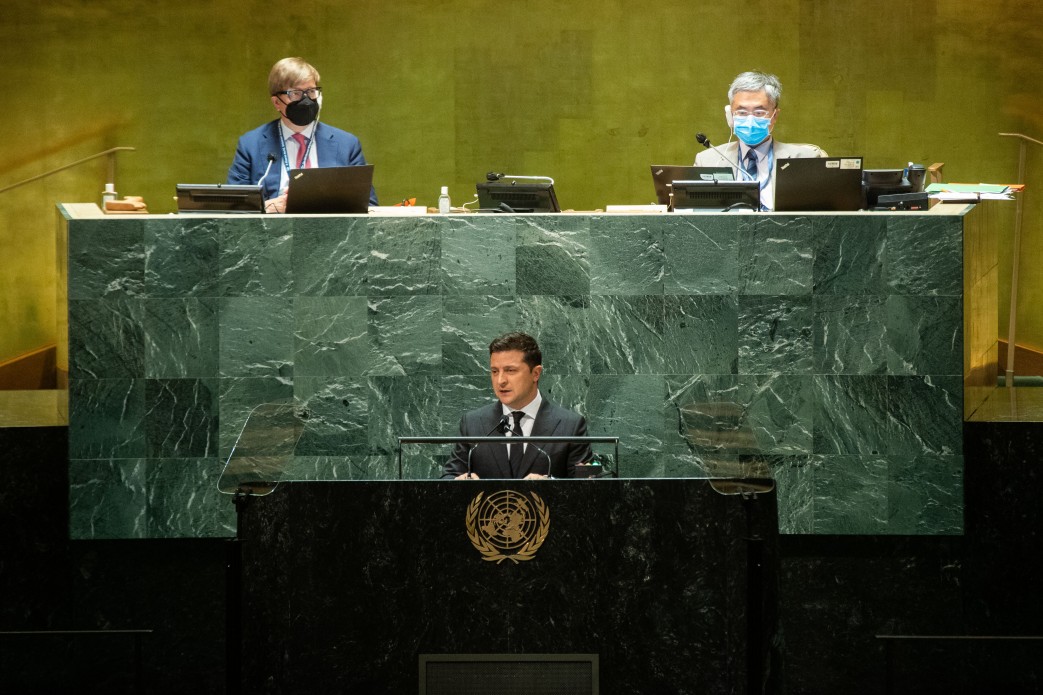 WHY UKRAINE'S RHETORIC HAS BECOME HARSHER
Today's level of global challenges leaves no time for procrastination, leaves no right to softness, and leaves no opportunity to "sit back." We in Ukraine have faced many modern challenges earlier than others. Take, for example, the issue of misinformation. We had warned the world about this threat back in 2014, when we found ourselves in the grinder of Russian propaganda. But no one seemed to be willing to hear us out. And in a few years, it was they who faced what Kyiv had long been talking about. Ukraine is ready to share the experience we have gained in countering hybrid threats over more than seven years of repelling Russian aggression. But now we know for sure: simply appealing and warning is futile. Today we need to be pro-active and show others the way. That is why Ukraine's rhetoric has changed.
Volodymyr Zelensky's address made many reflect on problems everyone understands and is aware of but for various reasons is silent or reluctant to discuss.
The climate crisis is one of the global challenges, overcoming which requires consolidated efforts of the whole world, which Ukraine is already actively joining. But tackling climate change is in some ways easier than taking a clear stand on forcible altering of borders. It is convenient to fight climate change because they don't fight back. However, to voice a clear position on Crimea, one needs to have the courage to challenge a very specific permanent member of the UN Security Council. And the UN still lacks such courage to do so. But we are working to encourage it to this end. On our side, we have almost fifty states that are not afraid to call the Crimea issues by their names.
The UN, just like international politics in general, needs change. The president's speech testified that Ukraine is not just ready to become a driver of these changes – it already is one. The Crimea Platform Summit proved that these are no empty words. The president's "harsh" rhetoric only reinforces the accomplished fact: Ukraine has moved to a proactive international policy, the parameters of which are defined by the Foreign Policy Strategy. We have nowhere to retreat and no one to wait for. We have learned the lesson history gave us: enlist partners' support but rely solely on yourself.
THE CRIMEA PLATFORM IS STANDING STRONG
The speech that the president of Ukraine delivered at the 76th session of the UN General Assembly differed from the previous ones. And it wasn't just about a "harsher" rhetoric that everyone noted. This year, Volodymyr Zelensky spoke at the highest international rostrum after successfully hosting in Kyiv the inaugural summit of the Crimea Platform and sealing strong support of 46 powers and international organizations toward the deoccupation of the Ukrainian peninsula. The head of state raised the issue of Crimea to a new level and called on the remaining 193 UN member states to join the Crimea Platform, whose declaration remains open for signing.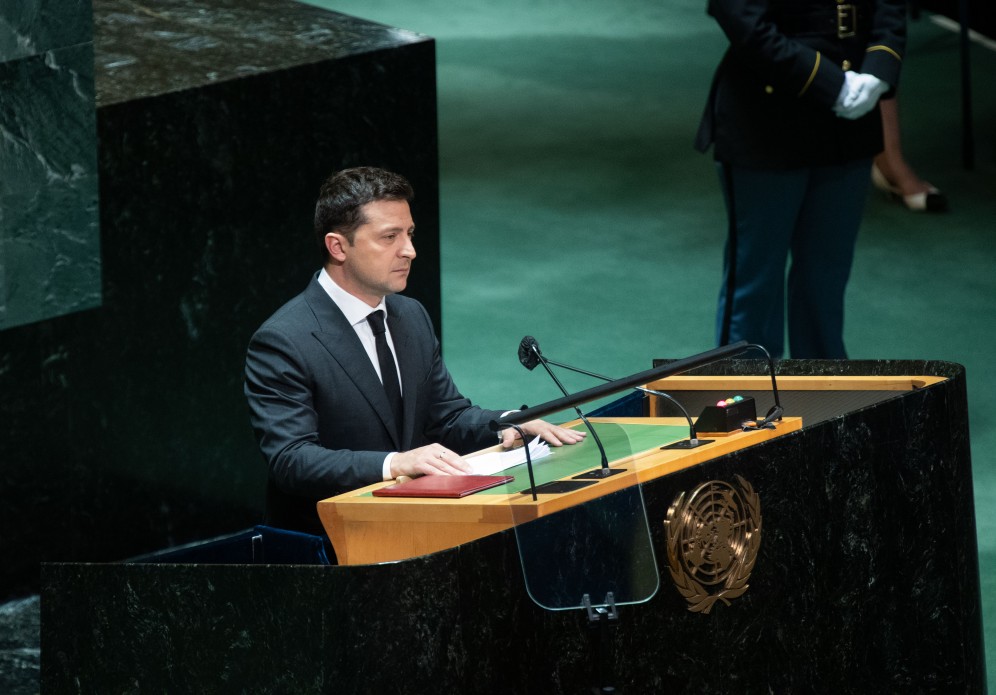 The occupation of Crimea is a global problem, not exclusively a Ukrainian one. It threatens principles fundamental for the UN and the whole world, such as international peace and security, inviolability of borders, freedom of navigation, protection of human rights and those of indigenous peoples, and environmental security. As the Ukrainian president said, "instead of fauna and flora, there is a fleet and soldiers" in Crimea today.
The Crimea issue clearly demonstrates that the UN needs change. It must be an effective, principled, and effective organization, a tool for maintaining international stability and order. The task of the United Nations is to actively resist attempts to destroy international law and to use military force to realize imperial ambitions. Half a century ago, Russian poet Stanislav Kunyaev said: "Good must have fists." This is exactly what the president called for: the UN must wake up and become this 'good with fists.'"
We believe the UN can indeed be an effective organization, but it must revisit its principles and stand up for them. Today, new challenges require significant internal reform, not only on the part of Member States, but also from the organizations themselves.
LIST OF 450: RELEASING UKRAINIAN POLITICAL PRISONERS
The Russian Federation systematically violates rights and freedoms of people living in the occupied territories of Crimea and Donbas.
In New York, at all meetings without exception, President Volodymyr Zelensky spoke about 450 Ukrainians whom Moscow unlawfully holds in the occupied territories of Donbas and Crimea, as well as in Russia. We have handed a complete list of Ukrainian political prisoners to all our partners, and I am sure this will help push the process of having our citizens released.
Russia may pretend as much as it wants that it's indifferent to the internaitonal opinion, but many times we saw proof that consolidated pressure and active diplomacy do work.
The UN must respond more actively to Russia's criminal activity. As a result of Russian aggression launched against Ukraine more than seven years ago, about 15,000 people have already died. This is the price Ukraine has paid for its freedom and independence, but also for the peace of Europe.
KYIV, LONDON, ANKARA: TRADE, WARSHIPS, AND DRONES
An important result of the Ukrainian delegation's visit to New York was the meetings Volodymyr Zelensky held with UK Prime Minister Boris Johnson and Turkey President Recep Tayyip Erdogan. As envisaged by our Foreign Policy Strategy, Ukraine is strengthening strategic partnerships with powerful players, forming jointly with them a system of global and regional security.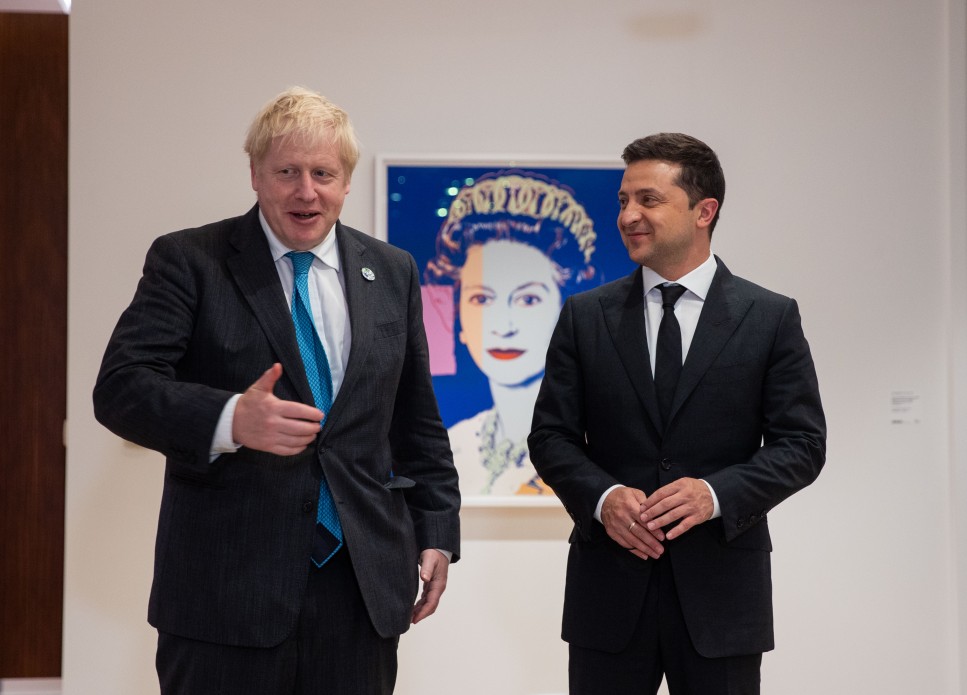 Last year, Kyiv and London launched a new phase of strategic partnership, where Ukraine and the United Kingdom, in particular, are strengthening the Ukrainian Navy. We recently agreed to have missile boats built for Ukraine – two will be built in the UK, and six more – by Ukrainian companies.
Since the signing of the new strategic agreement in October 2020 and the launch of the free trade zone in 2021, Ukrainian-British trade has grown by 70%. Volodymyr Zelensky and Boris Johnson discussed in New York concrete steps to further increase the pace of cooperation in trade, defense, finance, and energy.
Turkey is a key player in NATO and the Black Sea region. Today, Ankara is one of our key allies. Not only does Ukraine buy equipment from Turkey, it also develops joint projects, including strike drones and warships. The construction of the first corvette for Ukraine is currently underway in Turkey. I am convinced that we will establish in Ukraine production of Bayraktar drones. These formidable combat unmanned aerial vehicles, some of which are already powered by Ukrainian engines, are today one of the world's most effective types of weapons.
We also deeply appreciate the principled, unwavering stance of Turkey and President Erdogan personally on Crimea and Ankara's active support for the Crimea Platform.
Meetings with strategic partners prove that Ukraine is creating a space of security, freedom, and prosperity for itself and the region, as well as keeps strengthening its position in the Black Sea region.
UKRAINE WILL MAKE THE EU AND NATO STRONGER
The president met in New York with the leaders of two key organizations: the EU and NATO.
At a meeting with European Commission President Ursula von der Leyen, the president discussed preparations for the EU-Ukraine Summit, scheduled for October 12. He stressed the key priorities for our country, such as integration into the EU internal market and a clear prospect of our membership in the European Union. For both Kyiv and Brussels, this is a matter of common interest. After all, if the European Union wants to fight and win global competition for influence, it needs to attract new countries, expand and pump up economic muscles. In this regard, further economic integration of such a large country as Ukraine and our further membership in the EU are historically inevitable.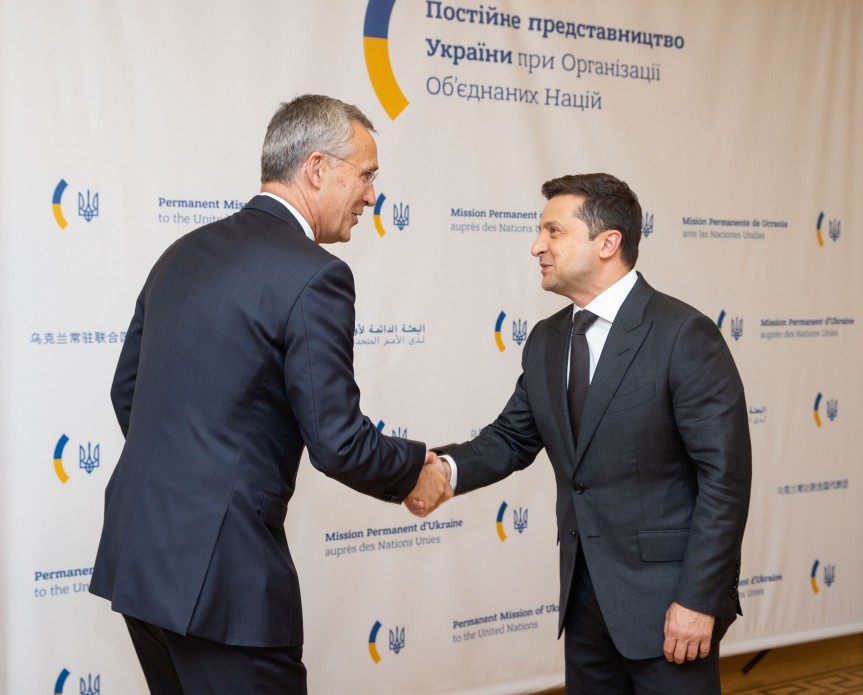 Also, Volodymyr Zelensky had a very friendly and informative meeting with NATO Secretary-General Jens Stoltenberg. Accession to NATO is one of the main priorities of Ukraine's Foreign Policy Strategy. Last year, we had Ukraine join NATO's Enhanced Opportunities Partnership program. Our country has gained the status of one of the six closest partners of the Alliance. I am convinced that joining NATO is also a matter of time.
The president is convinced that it is time to provide Ukraine with a clear roadmap for integration. Together with the Alliance, we are already strengthening each other and enhancing the security of the region. However, Ukraine's accession would make NATO even stronger because the Alliance needs Ukraine. We have a unique seven-year experience of successfully countering Russian aggression, Russian hybrid threats, cyber threats, and misinformation. We have strong and motivated Armed Forces, thousands of servicemen with actual combat experience that other Allies don't have. We are ready to defend ourselves and the region, to form new security architecture, to defend the values ​​of a free and democratic world that lie at NATO's core.
UKRAINE BEEFING UP AT UN GENERAL ASSEMBLY
The high-end results of the UN General Assembly's 76th session have proved Ukraine's role as a strong European state that is not afraid to call a spade a spade, offering solutions to global problems and being ready to defend international law and work to strengthen own security and that of the entire region.
Permanent Representative of Canada to the UN Bob Rae has best summarized the Ukrainian president's speech at the General Assembly: "Amidst a torrent of words at UNGA this speech stands out. I salute President Zelensky for his blunt, heartfelt honesty."
I am convinced that this Ukrainian energy of sincerity and change, which originated in the winter of 2013-2014 during the Revolution of Dignity, brings the world hope for a better future. Our proactive foreign policy is designed to make it a reality and change Ukraine and the world for the better.
Dmytro Kuleba, Minister for Foreign Affairs of Ukraine
im