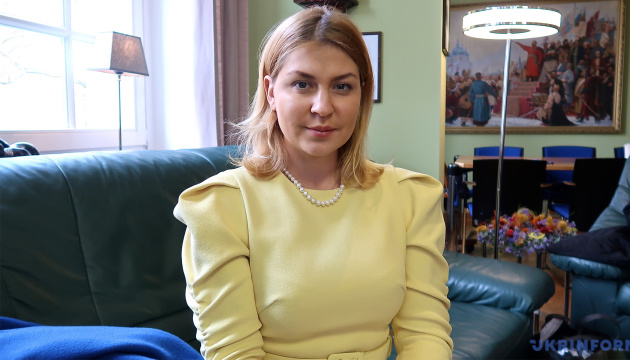 Ukraine has already fulfilled 58% of obligations under Association Agreement
During the five-year period of effect of the EU-Ukraine Association Agreement, designed for ten years, the Ukrainian side has fulfilled 58% of its obligations under the Agreement.
Deputy Prime Minister for European and Euro-Atlantic Integration of Ukraine Olha Stefanishyna said this at a meeting of the commission for coordination of the EU-Ukraine Association Agreement implementation, an Ukrinform correspondent reports.
Stefanishyna reminded that the implementation of the EU-Ukraine Association Agreement consisted of about 2,000 commitments undertaken by Ukraine and the European Union and defined in the Action Plan on Implementation of the Association Agreement which sets forth about 8,000 tasks. The official also noted that the Pulse of Agreement information and analytical system tracked in real time the progress in all 24 areas of cooperation provided by the Association Agreement.
"Today, when we talk about the official assessment of the Agreement implementation, which will be presented at the [Ukraine-EU] summit, it is important to note that we have fulfilled 58% of all obligations provided for Ukraine during the five-year period of the effect of the Agreement, which is designed for ten years, i.e. for half of the period allocated for the Agreement implementation," Stefanishyna said.
The Deputy PM noted that most of these obligations – 25% – were fulfilled in 2021, when the work of the coordination commission was launched, priority bills and bylaws were identified.
She informed that Ukraine had made the greatest progress during the implementation of the Agreement in such areas as political dialogue, national security and defense – 89%, justice, freedom, security, human rights – 87%, technical barriers to trade - 85%, humanitarian policy – 85%, public procurement – 85%, and entrepreneurship – 83%.
As reported, the 23rd Ukraine-EU summit will take place in Kyiv on October 12.
ol