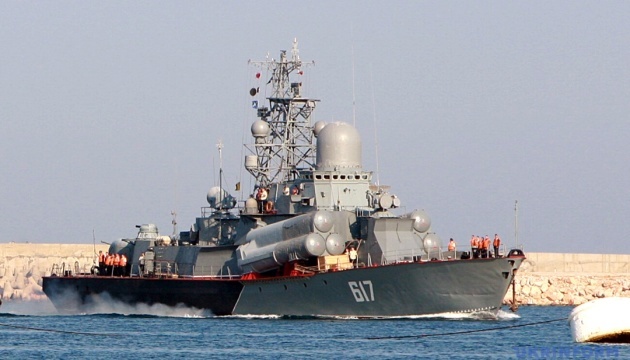 Russia launches large-scale exercise in Black Sea
Nearly 20 Russian Black Sea Fleet warships and other vessels were deployed from their bases in the occupied Sevastopol and Novorossiysk for missile and artillery exercises.
That's according to the press service of the Black Sea fleet, Ukrinform reports with reference to Interfax.
"The event involves missiles, anti-submarine ships, submarines, the fleet's trawling forces, support and rescue vessels, aircraft, and helicopters," the statement said.
According to the fleet's press service, at the naval training grounds, ship crews will launch missile and artillery fire as part of various tactical groups, conduct a set of drills on naval combat, search and destruction of submarines, as well as on locating and striking a coastal command post and repelling an aerial attack of a conditional enemy.
According to the military, the naval exercises will involve aircraft and helicopters of naval aviation and air defense of the Black Sea Fleet.
The drills will be monitored with the help of unmanned aerial vehicles, the Black Sea fleet command added.
Earlier on Monday, the press service of Russia's Black Sea fleet reported that anti-aircraft missile and Pantsir-S artillery systems stationed on the Kerch Peninsula (eastern part of the occupied Crimea) were engaged in an exercise to hit enemy cruise missiles.
As Ukrinform reported earlier, on September 22-30, the Joint Efforts 2021 command and staff exercise of the Armed Forces of Ukraine will be held in almost all training grounds across Ukraine and in the waters of the Black Sea and the Sea of Azov. According to the Commander-in-Chief of the Armed Forces of Ukraine, Lieutenant General Valery Zaluzhny, the move is a response to Russia's military maneuvers Zapad 2021, amid possible threats of a massive Russian invasion.
im