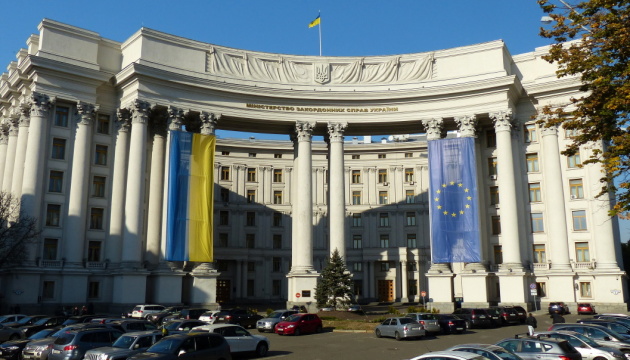 MFA Ukraine responds to Russia's accusations of involvement in "sabotage" in occupied Crimea
The Ministry of Foreign Affairs has dismissed as "provocation" the Russian FSB's accusation of the alleged involvement of the Ukrainian side in damaging a gas pipe in the occupied Crimea.
That's according to a statement released by the ministry's press service, Ukrinform reports.
"We have taken note of the provocative statements by the FSB of the alleged 'involvement' of the Main Intelligence Directorate of the Ministry of Defense of Ukraine and the Mejlis of the Crimean Tatar people in rallies against the actions of the Russian occupation administration and illegal paramilitary groups operating in the temporarily occupied Crimea. We consider these accusations, in particular involvement in the attack on the gas pipeline, as another provocation on the part of the Russian Federation," the Foreign Ministry said.
Ukrainian diplomats said "confessions" by illegally detained Ukrainian citizens circulated in the media were obtained through applying severe torture. This is an "unsuccessful attempt" by Russia's occupying repressive bodies at concealing repressions against the Crimean Tatar population of Crimea.
"We demand that the Russian Federation immediately release unlawfully held citizens of Ukraine and stop torturing and persecuting representatives of the Crimean Tatar people," the Foreign Ministry said.
MFA Ukraine also called on the international community to join the efforts toward the release of all illegally held Ukrainian citizens from Russian prisons and torture chambers.
As reported, on September 3-4, FSB operatives in the occupied Crimea detained Nariman Dzhelyalov, brothers Aziz and Asan Akhtemovs, as well as Eldar Adamanov and Shevket. Their exact whereabouts became known only on the third day following what Ukraine insists was an extrajudicial detention, or "abduction."
On September 6, the Kyiv District Court of Simferopol ruled that Nariman Dzhelyalov, deputy chief of the Crimean Tatars' Mejlis, and brothers Aziz and Asan Akhtemovs were taken into until November 4. They are charged with sabotage – the damaging of a gas pipe that fed one of the Russian military based in Simferopol district.
The FSB claims Ukraine's behind the attack stands Ukraine's GUR military intelligence, with the involvement of the Crimean Tatars' representative body, Mejlis.
The FSB suspects the Akhtemov brothers as immediate executors of the attack, naming Dzhelyalov as their accomplice.
Lawyer Ayder Azamatov said his client Asan Akhtemov, before agreeing to sign what turned out to be a "guilty plea," had been subjected to torture involving electrocution techniques.
im