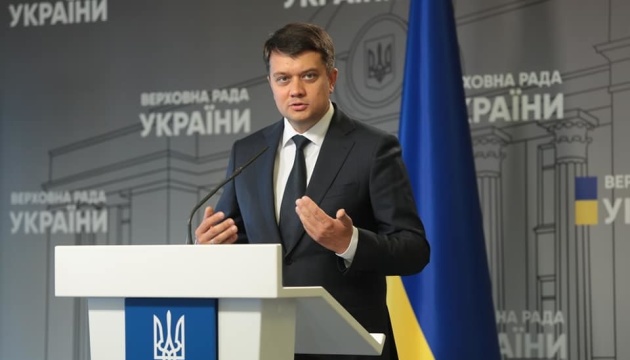 Bill on transition period in Donbas, Crimea requires additional discussions – Rada speaker
Government Bill No. 5844 "On the Principles of State Policy on the Transition Period" requires additional discussions, taking into account the ongoing negotiations in Minsk and Normandy formats, in order to maintain EU and U.S. support for Ukraine.
That's according to the Chairman of the Verkhovna Rada, Dmytro Razumkov, who expressed his opinion in an interview with Interfax-Ukraine, as reported by Ukrinform.
"Here the issue will need to be worked out in more detail, in order not to inadvertently create any zones of turbulence and to make sure Ukraine preserves support it enjoys at the level of the European Union and the United States. That's because we're aware that sanctions are tied to Minsk [agreements]. I spoke about it with my colleagues who work in Minsk and Normandy formats," Razumkov said.
The Rada speaker reminded that the bill so far remains at the Parliamentary Committee on human rights, deoccupation and reintegration of the temporarily occupied territories, national minorities, and foreign affairs.
"It is yet to be tabled in Parliament for consideration. There are various norms there, including those that require further discussion. However, I'm not ready at the moment to say when that happens," Razumkov said.
As Ukrinform reported, on August 4, 2021, the Cabinet approved the bill on the principles of state policy on the transition period.
The draft was developed in pursuance of the presidential decree of June 2, 2021, which put into effect the decision of the National Security Council "On certain issues of intensifying the process of peaceful settlement in Donetsk and Luhansk regions."
The draft law is based on the UN principles in the field of transitional justice, meeting the standards and criteria of the OSCE – the Copenhagen standards – and has been developed solely based on our country's national interests.
As reported, the draft law on the transition period in the temporarily occupied territories was forwarded to the European Commission "For Democracy through Law" (Venice Commission) to get an expert opinion.
im