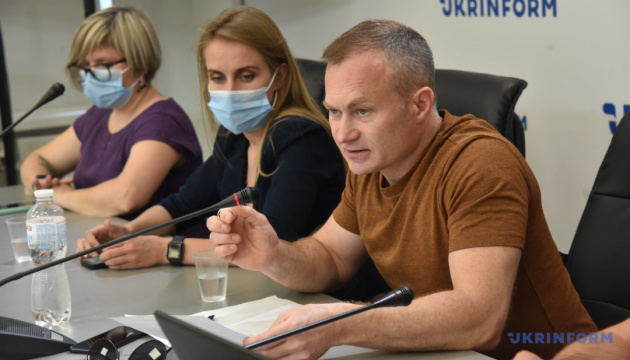 Russia blocking work of TCG's humanitarian group – Harmash
Russia has blocked the talks within a humanitarian working group as part of the Trilateral Contact Group on Donbas settlement.
That's according to Serhiy Harmash, a Ukrainian journalist who represents certain areas of Donetsk region of Ukraine in the TCG, Ukrinform reports.
In a Facebook post, Harmash noted that Moscow was now blocking the work of a humanitarian working group in the TCG, "sending there Pirogov, a terrorist whose presence previously blocked the work of a political group." But by unlocking the work of the political group, Moscow's representatives in the TCG are now effectively disrupting discussions on the pressing issues.
"Unlocking the group's work doesn't mean actually starting to work. And here the most interesting thing is that Moscow and its puppets from Donetsk and Luhansk today aimed their main efforts at disrupting the discussions and, accordingly, the further implementation of the notorious 'Steinmeier formula,'" the journalist wrote.
He noted that Ukraine and the OSCE, as a mediator, insisted on discussing the issue, but the opposing side said that it was secondary, and that they sought to discuss some "action plan" presented by representatives of the occupied areas (ORDLO), not formulas or legislation.
"The latter is understandable. If Kyiv starts discussing ORDLO's 'action plan,' this will mean recognizing them as independent actors in the negotiations, although they are neither a party to the conflict nor a member of the TCG. Moscow has been working toward this end for the past eight years. But the fact that they are so demonstratively ignoring the 'Steinmeier formula,' for which Berlin and Paris are calling, is like a greeting card they're sending to Europe," Harmash complained.
The delegate is convinced that Russia's representatives also openly ignore international law when considering allowing occupied Donbas residents to vote in the upcoming State Duma elections.
"Even beyond the TCG, they can't care less about Europe and international law as such. How else should we see their efforts to create voting opportunities and info centers in the occupied parts of Ukraine, calling on people to come and "vote" in the Russian State Duma elections? What kind of diplomacy are we talking about if they don't care about anything, if they accept no rules?" Harmash stated categorically.
As Ukrinform reported, on the eve of the elections to the Russian State Duma, scheduled for September 17-19, in some areas of Donetsk and Luhansk regions (ORDLO), residents are being massively handed out Russian passports. This is done in order to engage as many residents of the temporarily occupied territories as possible in the voting process.
im