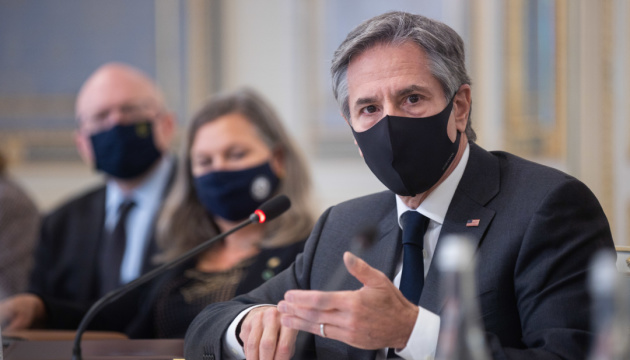 U.S. to stand by all commitments to support Ukraine – Blinken
The U.S. administration intends to fulfill all undertaken commitments to support Ukraine in the face of Russian aggression.
That's according to Secretary of State Anthony Blinken who spoke at the House Foreign Committee Hearings on Monday, Ukrinform's own correspondent reports.
"Absolutely, we will stand by our commitments," Blinken said in response to a question from Congressman Brian Fitzpatrick of whether he could tell the Congress and the nation that the U.S. would "unequivocally and unapologetically do whatever it takes to have the back of our friends in Ukraine" in the event of "Russian aggression."
In this regard, Blinken recalled that the American side confirmed its intentions voiced to President Volodymyr Zelensky during his visit to Washington two weeks ago.
As Ukrinform reported earlier, Congressman Brian Fitzpatrick was one of the members of the U.S. congressional delegation led by Senator Lindsey Graham, who paid a working visit to Ukraine last week.
During talks with Ukraine's Foreign Minister Dmytro Kuleba, the delegation assured him of U.S. support for Ukraine in countering Russian aggression and carrying out internal transformations.
im