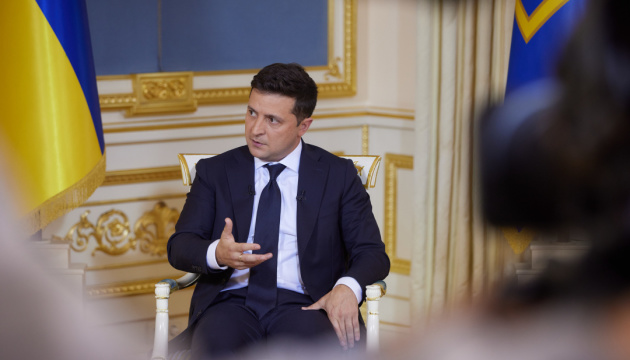 Zelensky says inaccurate to compare Ukraine with Afghanistan
President Volodymyr Zelensky considers it incorrect to compare Ukraine with Afghanistan in terms of dependence on U.S. aid.
The comment came as Zelensky spoke with CNN's Farid Zakaria, Ukrinform reports.
Asked by the host whether Ukraine was worried amid the withdrawal of U.S. troops from Afghanistan that the United States could potentially "abandon Ukraine," Zelensky said that "it's not an accurate comparison."
"Ukraine is not so dependent on the U.S. like Afghanistan was," the Ukrainian president stressed.
"I really believe that in four, five, or seven days you can't take such a big country geographically as Ukraine, with such a quite big population," said Zelensky.
The president of Ukraine reminded that in 2014, when Russia occupied Crimea and hostilities broke out in eastern Ukraine, "no one was hand in hand with us, there was no military equipment other than what we had available at that time."
"[W]e had the wave of volunteers, volunteer battalions, people who came together as a citizen effort to protect their own country. There was no one else. So in four days, even in eight years, Russia didn't manage to take over. Russia – it's not the Taliban army. This is one of the most powerful armies in the world. That's why we think we stood for our statehood, and this is why I think we are as independent as possible from any economy," Zelensky stressed.
According to the president, he told Biden: what does it mean to leave Ukraine? Zelensky said "it's the other way around. The United States should enhance their presence in Ukraine."
Zelensky also noted he had had a "powerful" meeting with Biden.
"The fact that we were in the priority list of countries that President Biden has met with – it means that we are a priority for the U.S. And we're thankful for that. That's a big signal. But behind this signal we're also expecting actions," Zelensky said.
A joint statement following Ukrainian President Volodymyr Zelensky's meeting with U.S. President Joe Biden said that the United States supported Ukraine's right to choose its own foreign policy course free from outside interference, including Ukraine's aspirations to join NATO.
Photo: Office of the President of Ukraine
im