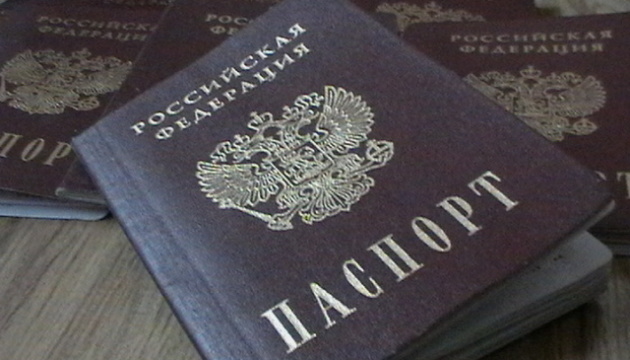 SBU recording mass issue of Russian passports to residents of occupied Donbas ahead of Duma election
The SBU is seeing a massive effort by Russia to naturalize as many as possible Ukrainian citizens residing in the temporarily occupied areas of eastern Ukraine ahead of the upcoming elections to the State Duma of the Russian Federation.
That's according to a comment by the SBU press service provided to Ukrinform.
Since June 2021, under direct instructions from Russian authorities, the forcible naturalization of Ukrainians has been accelerating as the invaders seek to have the residents of parts of Donetsk and Luhansk regions cast their ballots in September.
The effort is aimed at ensuring sufficient support for the ruling United Russia party, the SBU stresses, noting that in the newly issued passports, the code number is filed of the non-existent migration service office in Rostov region. The required residence address registration is not mentioned in such IDs either. Therefore, the issued documents do not entitle holders to social and pension benefits from the aggressor power and neither do they make their holders fully-fledged citizens of the Russian Federation.
SBU operatives have established that the masterminds behind the plan to ensure a high turnout are set to apply two mechanisms: with the assistance of the pro-Putin United Russia party, to bring Donbas residents to polling stations in the border towns in Russia's Rostov region or offer an opportunity to cast votes online.
The majority of "naturalized" Donbas residents, according to plan, are supposed to support the ruling party. To this end, a set of measures has been developed to campaign for the United Russia, including through signing people up to become party members and applying elaborate social engineering techniques to rally people's support.
The said efforts on forcible passportization of Donbas residents are being documented as part of an inquiry, whose results are expected to be forwarded to the relevant international bodies.
As reported, in 2020, at a meeting of the OSCE Permanent Council, the EU delegation stated that the streamlined procedure for granting Russian citizenship to a significant number of Donbas residents constituted an encroachment on Ukraine's sovereignty and was contrary to the spirit and goals of the Minsk agreements.
It should be recalled that the European Union does not recognize such passports and calls on other OSCE participating States to deem them void.
im