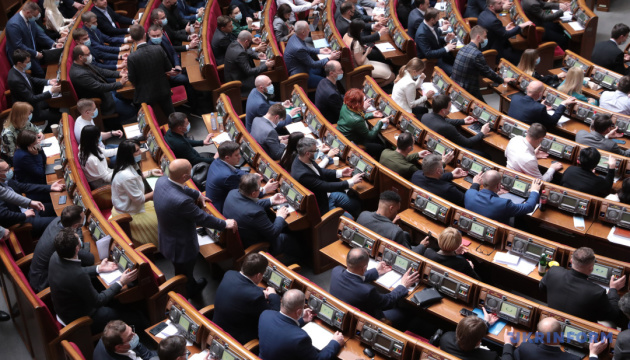 Rada calls on world not to recognize elections to Russia's State Duma
The Verkhovna Rada adopted a resolution, appealing to the international community over the illegal preparation for the holding of Russian State Duma elections in the temporarily occupied Crimea and Sevastopol and the engagement of Ukrainian citizens from the occupied Donetsk and Luhansk regions.
Resolution No. 5497 was supported by 318 lawmakers, Ukrinform reports.
According to the text of the appeal, MPs call on the international community to apply all necessary means to warn Russia's authorities and its occupation administration against holding elections to the State Duma in the temporarily occupied territory of Ukraine – the Autonomous Republic of Crimea and Sevastopol – and to make impossible participation in the said elections of Ukrainian citizens living in the occupied parts of Donbas.
The Verkhovna Rada also calls on the international community not to recognize the legitimacy of the State Duma elections on September 19, 2021, and the Russian parliament's subsequent decisions if the vote does take place in the temporarily occupied part of Ukraine.
At the same time, Ukrainian parliamentarians ask international partners to impose sanctions against Russia's authorities and its occupation administration, which involve Ukrainian citizens living in the temporarily occupied territories in the said elections and thus violate Ukraine's sovereignty.
As Ukrinform reported, Russia has recently been actively discussing the issue of organizing the electoral process to make sure residents of the occupied territories of Donetsk and Luhansk regions cast their votes in the State Duma elections scheduled for September 19, 2021.
The European Union is concerned about statements about the possibility of involving the temporarily occupied areas of Ukraine in Russia's parliamentary elections, emphasizing that this would be a violation of the Minsk agreements.
Russia has been persistently pursuing a policy of streamlining the naturalization of Ukrainian citizens residing in the areas of Donbas temporarily beyond Ukraine government control.
In the temporarily occupied Crimea, Russian citizenship has long been forced upon Ukrainian nationals living in the peninsula.
Ukraine earlier said it would not recognize Russian passports issued to Crimean residents in Russia's mainland Rostov region and Krasnodarskiy Krai.
im